Opening will draw Buddhist monks from around the world
By Curt Brown, Star Tribune of Minneapolis, July 3, 2007
HAMPTON, Minn. (USA) -- In his orange robe and sandaled feet, Cambodian Buddhist monk Moeng Sang spends much of his time meditating down a path toward virtue and radiating the peace of Buddha's teachings.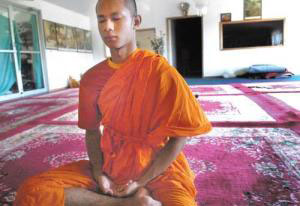 These days, though, he can't help but pull out his digital camera to click snapshots of the ornate new $1.5 million temple being completed on a Dakota County hilltop just outside Hampton, a town of 434 people about 30 miles south of Minneapolis.
Move over Mecca, Jerusalem and Vatican City. There's a new holy site: the Watt Munisotaram Temple amid the rolling farmlands east of Farmington.
"I am so very proud because you can see it from all around," Sang said. "I have traveled all over the United States, and this is the biggest and newest temple to be built for our community, and it will be a landmark for future generations."
After 25 years of dreaming and five years of construction, Sang and his fellow monks have been working with Cambodian craftsmen and architects to put finishing touches on the 50-foot-high temple, which is designed to mirror the traditional holy structures of southeast Asia.
More than 100 monks from throughout the world are expected to consecrate the temple in a four-day celebration starting Thursday.
"This is a very, very rare event that comes once a lifetime, and that's why it will attract so many people," said Yanat Chhith, 65, a leader of Minnesota's growing community of 7,000 or so Cambodian Buddhists. Chhith is a former analyst for the Minneapolis Federal Reserve Bank.
Most Cambodian Buddhists emigrated to Minnesota in the early 1980s, fleeing their homeland after the Vietnam War. Chhith said the community started gathering at temporary temples in houses in Minneapolis, St. Paul and Eagan, but chose their rural enclave in the exurbs so they wouldn't disturb anyone.
While hundreds of Buddhists from throughout the region are expected for July's celebration, the general public is also welcome to witness the rituals and enjoy traditional Cambodian music, dancing and crafts, and food from dozens of vendors.
At the Main Street Salon in Hampton, stylist Laura Dohmen says local residents welcome the new temple on the outskirts of town.
"It looks like a big Chinese restaurant," Dohmen said, shampooing a client's hair. "The place looks beautiful, and they're not harming anyone or causing any problems."
The door of the temple faces east, toward the sunrise, and is framed by staircases with railings topped with carved snakes swallowing sea serpents. Stone lions guard the doors.
Inside the first floor social hall, nine polished marble balls shipped from Cambodia, weighing 400 pounds apiece, sit waiting in roped nettings.
During the consecration of the temple's boundaries Friday, the visiting monks will join Sang and parade around the site three times, pulling one of the marble orbs in a cart. The stones will be placed in eight holes around the boundaries, with the ninth to be placed in the center of the structure.
"People will place flowers, books, jewelry and money in the holes to help them find wealth in the next lifetime," said Chanda Sour, another board member of the Minnesota Cambodian Buddhist Community.