Tibetan center out of the red
By Robert King. The Indiana Star, August 3, 2007
Anonymous donors help Bloomington center get out from under $1.7 million in debt

BLOOMINGTON, Ind. (USA) -- Arjia Rinpoche, the monk who inherited a financial mess when he took over the Tibetan Cultural Center in 2005, says Buddhist philosophy doesn't speak extensively about financial management.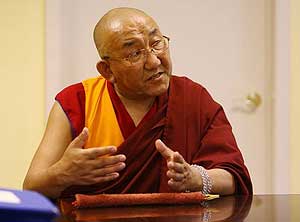 << In charge: Arjia Rinpoche was appointed by the Dalai Lama to serve as director of the Tibetan Cultural Center in Bloomington. - Robert Scheer / The Star
But thanks to the generosity of a small group of anonymous donors, Rinpoche was able to announce Thursday that the Bloomington-based center -- on the verge of hosting the Dalai Lama for a fifth time -- is now debt-free.
Just two years ago, the center was facing $1.7 million in debt and on the brink of foreclosure. There was even talk of a public auction of the center's 108 acres, which feature a Buddhist temple, a building housing Tibetan cultural objects and a pair of stupas: tall, white monuments that feature bulbous domes and towering spires.
"It is a big burden taken off," Rinpoche said.
The announcement comes less than three months before the Dalai Lama, spiritual leader of Tibetan Buddhists around the world, is due to return to the cultural center, which was founded by his brother, former Indiana University professor Thubten Jigme Norbu, in 1979.
Norbu, who still lives at the center, has suffered a series of strokes in recent years. And the center's financial woes seemed to coincide with his failing health. Unpaid debts from the construction of several structures on the property, including the ornate temple with several gold-leafed icons, nearly put it out of business.
But the Dalai Lama appointed Rinpoche to step in and form a board of directors to give the center a more professional management structure. The Dalai Lama also was responsible, Rinpoche said, for encouraging several wealthy benefactors to step forward and contribute to the center's revival.
The donations were channeled through the Dalai Lama's office in New York, Rinpoche said. Donors requested anonymity.
"I don't know who they are," Rinpoche said.
Sudha Koneru, the center's treasurer, said retiring the debt will relieve the center of mortgage payments that were running $20,000 a month. He is hopeful that, with the freedom, the center will be able to expand its programmatic offerings.
"It's a complete relief," he said.
Elaine Irwin-Mellencamp, a member of the temple's board, a noted fashion model and wife of rock singer John Mellencamp, said there is even serious talk of developing a Buddhist monastery on the site. More importantly, she said, the center will remain as a unique part of Indiana's cultural landscape.
"We will all benefit as a community if this is a successful endeavor," she said. "Just to have something of this unique nature in our town is great."
For Larry Gerstein, a Fishers resident who is president of the International Tibet Independence Movement and director of the Center for Peace and Conflict Studies at Ball State University, assurance of the center's survival is important for other reasons, too.
To those who embrace nonviolent social action, it is a focal point for that ideology. For the Tibetans, it a lifeboat for a people whose culture, Gerstein said, is being "systematically destroyed by China." And for Tibetan Buddhists, the place that has been literally blessed by the Dalai Lama on repeated visits is like no other in America.
"We believe it is sort of sacred ground," Gerstein said.
Tibetan Cultural Center
Location: Five miles southeast of downtown Bloomington.
Founded: 1979, by Thubten Jigme Norbu, brother of the Dalai Lama and then an Indiana University professor.
Features: The 108-acre site features a cultural center, a temple and two traditional monuments call stupas.
Leadership: Arjia Rinpoche, a native Tibetan, was appointed director in late 2005. At age 2, he was deemed by the monks of the Kumbum monastery to be the reincarnation of their founder, a spiritual master who lived in the 14th century. He leads a board of directors. Elaine Irwin-Mellencamp, the fashion model wife of rocker John Mellencamp, serves on the temple board.
On the Web: www.tibetancc.com.