Ex-monk's story packs powerful message
BY ROSS FRESHWATER, Cincinnati Enquirer, Oct 7, 2007
Cincinnati, Ohio (USA) -- Over the past few weeks, my wife and I have been awoken each morning by our clock radio broadcasting the plight of Myanmar's democracy movement - specifically the torture and murder of Buddhist monks. For us, Myanmar's plight has struck a very personal chord.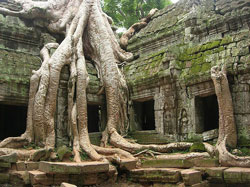 This past summer we got married and hopped on a plane for a honeymoon adventure across Southeast Asia. We did not make it to Myanmar, for political conditions render it near impossible to gain entrance. We did, however, make it to neighboring Cambodia. It was there that we made a new friend. To protect his safety, I'll call him Ponleak, which in the local language means strength and endurance. Ponleak is exactly my age, 35, and a former Buddhist monk.
We began our stay in Cambodia with a visit to the Killing Fields. It was here a mere 30 years ago that a ruthless dictator named Pol Pot led a gruesome massacre of innocents that would take one-quarter of the country's population. Today, at the center of the site, stands a three-story glass pagoda piled high with the skulls of the anonymous masses.
With the passing of another decade and the dark episode now embodied within a towering memorial, we wanted to imagine that the country has come to terms with its past and moved on. Such a realization would also make it easier to move on to our primary reason for visiting the region - the ancient temples of Angkor Wat. Nonetheless, Cambodia's still-dark present would soon reveal itself via a former Buddhist monk.
We found ourselves sharing a taxi with Ponleak as a means to cut the cost of our five-hour journey to the ancient temple city. With hours to pass and the smooth lull of the country's only paved road, we would hear the unhurried telling of his story. When Ponleak was 14, his peasant father had two choices: Let Pol Pot impress his son into his genocidal army. Or hand him off to a Buddhist Monastery for hiding as a monk.
In a country where public education does not exist, the latter option allowed Ponleak to become the only educated child in his family. He learned six languages and passed eight years of quiet reflection over hundreds of books. History, politics, economics, religion, Ponleak clearly knew them all, with a grasp of language and critical thought that could easily make him a graduate of an esteemed college in the U.S.A.
In 1993, after the fall of the Soviet bloc, the United Nations finally stepped up to ensure fair elections in Cambodia. Yet, just five years later in 1998, when elections were due once again in a fledgling democracy that had recently been gutted of its educated class, the U.N. chose not to partake. The results were predictably bleak, and as keepers of the country's knowledge, Buddhist monks like Ponleak felt obliged to act. They became activists for honest democracy.
These monks were quickly hunted down and Ponleak's best friends killed. Ponleak escaped to Thailand where he spent the next three years mourning for his friends while his family mourned for him. He lamented to us his ordeal. "They thought I was dead ... They performed the funeral and all. It was very hard to spend my time there ... I had lost my best friends." The most surreal aspect of Ponleak's story was the warm aura and good humor that was ever-present throughout his telling of it. Many travelers call Cambodians the "Irish of Asia," and I began to see why.
The Cambodian government proclaimed Ponleak a "false monk," and, in what was perhaps an exchange for amnesty, Ponleak finally decided to trade in his saffron robes for civilian clothes, and to return to Cambodia. We hired Ponleak for our personal tour of Angkor Wat the following day.
If you've seen an Indiana Jones movie, you've glimpsed Angkor Wat. Like many temples built by a sister culture in Myanmar, it is without a doubt one of the ancient wonders of the world, on par with the great pyramids of Egypt and the towering pillars of Greece.
We spent a day meandering through these mythical ruins with Ponleak, as he alternated between detailed history lessons leaping forth from carved corridors and his own political reflections on the country today. "I want you to learn about the grand past of my people. But I also want you to see the real Cambodia for what it is today. I want to write about it, but I have no access to things like computers or the time in my day. This is one reason why I share them with you - so that you can write about the things that I say."
The recent atrocities in Myanmar have pushed me to deliver Ponleak's request. Like the Christian monks who preserved the wisdom of ancient Greece and Rome through the Dark Ages, Buddhist monks across Southeast Asia are doing the same with this region's own brilliant and imperiled knowledge. They cannot do it alone.
-------------------------
Ross Freshwater is a native of Cincinnati and graduate of St. Xavier High School. He holds a bachelor's in political science from Ohio State and a master's in social studies education from Harvard. He is currently a Ph.D. student in Education Leadership and Policy Analysis at the University of Wisconsin.