Dalai Lama begins Indiana visit under tight security
By Robert King, The Indiana Star, Oct 24, 2007
BLOOMINGTON, Indiana (USA) -- For Tibetan Buddhists, rain is a great blessing. So when the Dalai Lama returned to Indiana on Tuesday under a steady downpour, it was deemed an auspicious start to his six-day visit.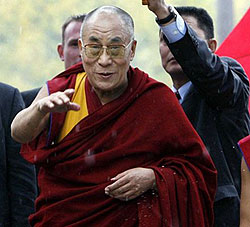 << A steady drizzle greeted the Dalai Lama on Tuesday in Bloomington as he started his Indiana visit. - DANESE KENON / The Star
The Dalai Lama, leader of Tibetan Buddhists worldwide, charmed an audience of 1,000 people at an interfaith prayer service, where he decried wars in the name of God and urged unity among people of different faiths.
Then he stepped out into a drizzle to offer blessings of scattered rice and flower petals under a colorful new Tibetan archway entrance to the 108-acre Tibetan Cultural Center his brother founded here in 1979.
Security provided by the FBI, the State Department and local police was tight. Guests at the prayer service were scanned with metal detectors. A Mongolian journalist was escorted out of the room for moving up to a better seat. The cultural center, normally open dawn to dusk, was locked down.
Dalai Lama visits always prompt tight security, said Tibetan Cultural Center spokeswoman Lisa Morrison. But she said it would be tighter this week because of the controversy about China's strong objections to his state visit.
Concerns about safety were an ironic counterpoint to the message the Dalai Lama brought at the prayer service.
In his sometimes broken English, the Dalai Lama questioned the role of violence in society: "When you look from space at this small planet, there is hardly a justification to fight."
Economic problems, environmental issues and overpopulation may plague the world, but they can be overcome, he said, when people think of the "whole group" as one entity.
"In that new reality, the concept of 'we' or 'they' is no longer there."
The Dalai Lama, 72, is scheduled to deliver 12 hours of teachings and two public speeches this week. His 15-minute chat Tuesday was a teaser he used to talk about the world's religious diversity.
It was an appropriate topic for an interfaith service that featured a procession of Buddhist monks and Dominican friars, recitations from Jewish, Christian, Hindu and Sikh scriptures and a prayer from a pipe-smoking Shoshone sun dance chief.
"There are differences. But these differences have the same purpose — to strengthen and educate us on the importance of compassion," he said. "All religions use different methods and different ways of approach. But they have the same end."
The concept of war in the name of faith, he said, brings sadness to God. "True followers of God must express compassion.
"The concept of war is out of date," he said. "Killing your neighbor is not your victory but your mutual self destruction."
Kathleen Hannah, 15, was one of 20 students from Brebeuf Jesuit Preparatory School in Indianapolis who made the trip. She was amazed by the diversity of faiths on display and inspired by the Dalai Lama's words.
"In the midst of everything that is happening in the world, we really do need to remember that compassion and peace should be in the center of our hearts," she said.
Ben Ellerin, a 23-year-old music student at Indiana University, offered up a Jewish prayer for peace in Hebrew to the audience. The Dalai Lama gave him a bow of appreciation for his work.
"As a leader himself, I was impressed by the incredible reverence for the other faith presenters," he said.
The Dalai Lama's arrival came just a week after he met with President Bush and received the Congressional Gold Medal, America's highest civilian award.
That America's leaders recognized Tibet's exiled leader and its struggle for religious and cultural freedom meant a great deal to Richen Gelek, a 43-year-old Tibetan immigrant who traveled from California for the Dalai Lama's teachings this week.
"It is important for the entire world, especially Tibetans and the Chinese people, that they get his message of peace."
For Julie Crow DeMao, an Indianapolis native now living in Florida, the sight of the Dalai Lama back in Bloomington brought tears. She's serving as a volunteer helper during the visit.
"It's like seeing our favorite, dearest, most beloved relative," she said as the Dalai Lama chanted Tibetan prayers as he blessed the new archway. "It was just a perfect moment."
---
Why Indiana?
The Dalai Lama, worldwide leader of Tibetan Buddhism, Nobel Peace Prize laureate and exiled leader of Tibet, started his fifth visit to Indiana since 1987 on Tuesday. So what is his draw to Central Indiana?
The Dalai's Lama's elder brother, former Indiana University professor Thubten J. Norbu, founded the Tibetan Cultural Center in Bloomington in 1979 and still lives there today, although he is an invalid following a series of strokes.
The center was intended to be a sort of lifeboat for Tibetan Buddhism and culture, which have been under great stress since the Chinese invasion of Tibet in 1950 that eventually forced the Dalai Lama into exile. The Dalai Lama's visits have coincided with various stages in the center's development, including the dedication of a new temple at his last visit in 2003.
This visit is the Dalai Lama's first since he appointed Arjia Rinpoche as the center's new director in 2005 following the center's near financial ruin. Rinpoche issued the invitation to the Dalai Lama.
How's the center doing?
The Dalai Lama's visit should help the Tibetan Cultural Center shore up its finances after its near-collapse in 2005, when debts from construction of a Buddhist temple and other mismanagement nearly forced the 108-acre center into foreclosure.
A new director, a new board of directors and the generosity of the Dalai Lama's friends erased more than $1.7 million in debt. Now backers hope revenues from ticket sales during the Dalai Lama's visit will provide a nest egg for operating expenses. Beyond that, they hope it will set the stage for establishing a monastic college at the center.
What's China say?
He remains highly popular among Tibetans and is lauded in much of the world as a figure of moral authority, but China reviles him as a Tibetan separatist. Chinese officials lashed out angrily at the United States after he received Congress' highest civilian honor last week. The Dalai Lama brushed aside the furious reaction, saying he supports "genuine autonomy," not independence for Tibet.
-- From Star and wire service reports