Dalai Lama to visit Michigan U
By Lisa Haidostian, Michigan Daily, Dec 10, 2007
Nobel winner to speak at Crisler
Michigan (USA) -- The Dalai Lama will visit Michigan University in April.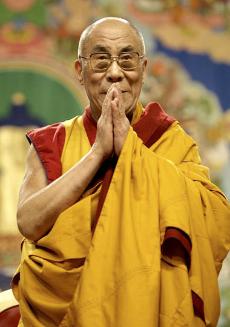 << The Dalai Lama, who was awarded the Congressional Gold Medal of Honor in October, will speak at Michigan University in April. (AP PHOTO)
During a two-day event, he will deliver a lecture called "Engaging Wisdom and Compassion" at Crisler Arena and will present the School of Natural Resources and Environment's Peter M. Wege Lecture on Sustainability to mark Earth Day, University spokeswoman Kelly Cunningham said.
Tenzin Gyatso - the 14th Dalai Lama's birth name - is the spiritual leader of Tibetan Buddhism and serves as one of the world's most prominent teachers of peace and compassion.
Jewel Heart, an Ann Arbor-based Buddhist cultural center, The Tibet Fund and the Garrison Institute are co-sponsoring the visit.
"The University is excited to welcome the Dalai Lama to campus in April," Cunningham said.
Gelek Rimpoche, a Tibetan teacher and the founder of Jewel Heart, said Gyatso's visit will make a great impact on the Ann Arbor community.
"His visit will uplift us during difficult times and be like the great fortune of a blue moon for spiritual practitioners of all disciplines," Rimpoche said.
The Dalai Lama won the Nobel Peace Prize in 1989. He was awarded the Congressional Gold Medal in October.
The Chinese government, which is at odds with Tibet and claims that the Dalai Lama supports an independent Tibetan state, criticized the awarding of the medal, saying it would harm China's relations with the United States.
China invaded Tibet in 1950, and the Dalai Lama fled the country in 1959. He has remained in exile in India ever since.
The Dalai Lama's visit, which comes during the LSA China Theme Year, will be his second to the University. The Dalai Lama came to the University for three days in 1994, where he received the Raoul Wallenberg Medal, an honor given to someone who has made outstanding humanitarian efforts. During the Wallenberg Lecture, he said "we are from all directions and speak different tongues" but humans have "tremendous constructive potential."