Buddhist abbot is face behind Ask a Monk online service
By Janet Fillmore, Chicago Tribune, January 9, 2008
CLEVELAND, Ohio (USA) -- When the Ven. Shih Ying-Fa parks his 5-foot-10-inch frame before the computer in his home office, he never knows who will be seeking his help.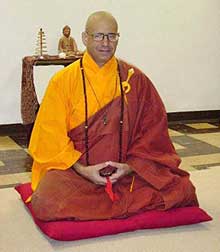 << "Ask the monk" - Ven. Shih Ying-Fa
It could be a high school student in Baton Rouge, La., who asks the difference between Theravada and Mahayana Buddhism for a class.
Or a poet in Tallahassee, Fla., who wonders if attending a Zen Buddhist group is for him.
Or a hospital worker in London who has practiced martial arts for 20 years but isn't sure if they are compatible with Buddhist teachings.
Ying-Fa is the human behind Ask a Monk, an online information and advice service for Buddhists and those who want to know more about Buddhism. The 55-year-old abbot of CloudWater Zendo, the Zen Center of Cleveland, receives at least 20 e-mails a week from as far away as China, Japan and New Zealand.
Ying-Fa has been answering Buddhist queries for 10 years, ever since his teacher recommended that he include the feature on the Zen Center's site,
http://www.cloudwater.org/askamonk.html
.
"It's a wonderful way to answer the many, many questions people have about a tradition with which they're probably not that familiar," Ying-Fa said. "Plus, for those who are already on this path, it can be an invaluable resource, particularly for those who do not have ready access to a teacher."
There are times, though, when Ying-Fa can only shake his head in sadness and frustration at what people write.
Several years ago, he received an e-mail from a man who claimed to be an accomplished Zen student because he was able to get into the minds of animals he was hunting before he shot them. The man said he could "be one with the animal," which enabled him to track them efficiently.
"That may make you a great hunter," Ying-Fa responded, "but it also makes you a lousy Zen student since you use your meditative concentration to take life instead of preserving it."
The man never wrote back.
Most people, however, are grateful for his replies. These range from students who are rushing to complete an assignment in comparative religion and need help with definitions, to adults who have no other place to turn with a concern.
The poet who inquired about joining a Zen group is James Kimbrell, a 40-year-old creative writing teacher at Florida State University. "I felt a little disinclined to go to a group," he wrote to a reporter, "and yet I felt the urge to explore the various groups in my area now."
Kimbrell said Ying-Fa responded within a day and explained "the positive aspects of sitting with a group -- sort of the difference between working out at home and doing it at the gym; you can draw on the energy of the group and gain a greater focus and perhaps a more disciplined experience."
Dave Symon, 41, a medical records clerk at St. Helier Hospital in south London, said, by e-mail, that he had used several Buddhist sites for scripture but found "Ask a Monk" especially informative and prompt. Ying-Fa's response to his question about the martial arts and Buddhism was that it all "comes down to intent ... Martial arts are neither inherently good nor inherently bad; they are simply a form of physical, mental and spiritual training. It is how one employs this training that determines whether it goes against the Buddhist teachings."
Ying-Fa said he spends six to seven hours a week responding to e-mails. It helps, he said, that he's "a fairly good typist," the result of years as a TV and radio journalist in several states using his legal name, Michael Bonasso.
In 1985, after three years spent working for the Veterans Administration, he found himself "a very, very unhappy, angry and stressed-out person." His search for meaning led him to the Cleveland Buddhist Temple, where he began meditating regularly and found his first teacher. He took his novice vows in 1990 and was ordained as a monk in 1998. In 1994, he founded CloudWater Zendo.
Ying-Fa said he tries to answer "Ask a Monk" e-mails within 24 hours, giving priority to those writers with a family member or animal near death, or those experiencing other life crises. A speedy response can be difficult when he travels, however, because he does not have a laptop ("My karma has not been such that I currently own one").
That's about to change. Sitting in a coffee shop last month, Ying-Fa brandished an iPhone, an early Christmas present from his wife, the Ven. Shih Ming-Xing, the assistant abbot at the Zen center.
Now he can check e-mail just about anywhere.
"It's the perfect gift for the monk on the go," he said, his face dissolving into a beatific smile.
About Ven. Shih Ying-Fa
The Abbot of Cloud Water Zendo and founder of the Nien-Fo Ch'an Order of Buddhist Monks is Ven. Shih Ying-Fa. Ven. Ying-Fa is a disciple of his root teacher, Rev. Koshin Ogui of the Midwest Buddhist Temple in Chicago, Illinois. He received Dharma Transmission from Ven. Shih Shen-Lung of the Dragon Flower Ch'an Temple in 1998 and succeeded Master Shen-Lung as Abbot of Dragon Flower following his death.
Ven. Ying-Fa was recently named honorary Spiritual Director of the Richard Hunn Association of Ch'an Study in England. Ven. Ying-Fa regularly teaches at CloudWater Zendo's affiliate Sanghas in Canton and Akron, Ohio as well as Pittsburgh, Pennsylvania. He is also active in teaching Zen and Buddhism to inmates at several Ohio correctional facilities.