Buddhist monks and nuns went the distance to see the Dalai Lama in Ann Arbor
by Amanda Hamon, The Ann Arbor News, April 19, 2008
Ann Arbor, MI (USA) -- They may have looked similar with their flowing orange robes and sheared heads, but the Buddhist monks and nuns who attended the Dalai Lama's talks Saturday traveled from many places around the country and abroad.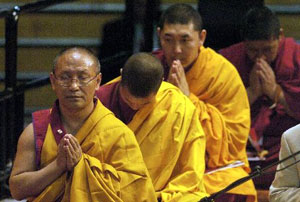 << Leisa Thompson | The Ann Arbor News
Buddhist monks listen to the Heart Sutra during the Dalai Lama's first lecture on "Engaging Wisdom and Compassion" Saturday.
From England to Los Angeles, they came in small groups and alone because, they said, they simply wanted to soak up as many of His Holiness' teachings as they can.
"I came to hear his message of using our most precious intelligence to create peace," said Tibetan Buddhist monk Tenzin Kyabcho, who lives in Los Angeles.
About 100 Buddhist monks who are originally from Tibet and live abroad were at the Saturday event, said Tibetan monk Geshe Norbu of Orange County, Calif.
Norbu said seeing His Holiness is not a requirement in the faith, but many Tibetans and other monks often travel long distances to see him speak. Money is raised by the monks' monasteries, or Buddhist students donate cash to send them, he said.
What's important, he said, is the message of love, compassion and spiritual balance.
"If we all have love and compassion, it will spread to (all) sides of the world," he said.
There also were monks not affiliated with Tibet - the Dalai Lama's homeland - at Saturday's talks, although estimating how many was difficult. During the Dalai Lama's talks, there were several rows of monks seated on chairs near the stage and about 30 sat on the stage with their knees folded and their attention bolted to the speaker.
Ani Palmo Rybicki, a Buddhist nun in Cleveland, said she found inspiration from the Dalai Lama that she could use to teach her own students.
"When a realized being explains the teachings, it's very different than reading it in a book," she said.
Ajahn Thanasanti, a Buddhist nun from England, said although she's seen His Holiness speak several times, she'll never tire of traveling to see him.
"His presence is very impressive," said Thanasanti, who sat on the stage near the Dalai Lama during his talks. "No matter how many times I see him, it's nourishing and it teaches me."