Global Buddhist event comes to Hoagland
By Rosa Salter Rodriguez, The Journal Gazette, May 31, 2008
Hoagland, Indiana (USA) -- Buddhists hailing from far-away countries and nearby states will gather today in Hoagland for a joyous celebration that some compare with Christmas and Easter wrapped into one.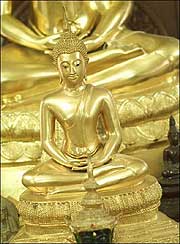 << An 8-foot statue of the Buddha, like this one from a Bolivian monastery, will be unveiled at the Hoagland temple
The event is called Wesak. Pronounced vay-sack, Wesak is marked annually with large gatherings featuring devotional music, dancing, parades, traditional foods, meditation, chanting and talks about Buddhist teachings.
The event celebrates the birth, enlightenment and passing into eternity of Gautama Buddha, says Venerable T. Devananda, chief abbot of the Indiana Buddhist Temple, 2528 Thompson Road, where the gathering will take place.
"We celebrate the three all together, and we are very happy because we have a great teacher. We show we have great respect for our teacher and how he is a light to people," he says.
"We try especially to practice his teachings (on Wesak). We teach people about meditation, loving kindness and many things. The main thing we want is peace."
Devananda says the event is larger this year because the temple's mostly Sri Lankan congregation, formerly known as the Indiana Buddhist Society, has settled into its new four-acre site in Hoagland.
Buddhists from Fort Wayne's five other Buddhist groups have been invited and are expected to attend.
They include groups established by natives of Myanmar, formerly Burma, and Laos, Devananda says. Buddhists from Indiana, Michigan, Ohio and Illinois are also expected, with a few traveling from California, New York and Pennsylvania, he says.
The non-Buddhist public also is welcome, and some programs will be in English, says Nancy Kelley of Fort Wayne, who has been teaching English to the monks and helping prepare for the celebration.
A centerpiece will be the unveiling of an 8-foot-tall statue of Buddha, newly arrived from Sri Lanka. Devananda says the statue, which will grace a small shrine on temple grounds, will be unveiled after 6 p.m.
Also during the evening, a large number of lanterns made by monks and others during the last several weeks will be lit, with the illumination signifying the spiritual light of the Buddha and his teachings.
A set of 15 painted panels depicting the life of Buddha and imported from Sri Lanka will be on display.
Wesak, also known as Buddha's Birthday and Full Moon Day, is celebrated at different times and in different ways in East Asian countries.
In Sri Lanka, Wesak lasts two days and includes lanterns hung in front of homes and stands in the street offering free food and drink to devotees. Other signs of homage to Buddha, including almsgiving, are performed.
Part of the local event will be a remembrance of those who died in or are suffering from the recent cyclone that devastated Myanmar, Devananda says. Donations will be accepted by monks from that country who attend, he notes.
If you go
What: International Wesak Celebration
When: 2 to 8 p.m. today
Where: Indiana Buddhist Temple, 2528 Thompson Road, Hoagland