Monastery celebrates 10th anniversary in Bloomington
by Jenny Perillo, Indiana Daily Student, July 7, 2008
Bloomington, Indiana -- The Dagom Gaden Tensung Ling Buddhist Monastery celebrated its 10th anniversary with colorful flags, a multicultural peace concert, nature walks and a free, Tibetan-inspired picnic lunch Saturday.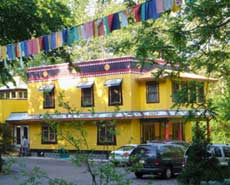 The celebration began with inspiring words of gratitude and hope by Venerable Kuten Lama, which were translated into English by a smiling Venerable Jamyang Lama.
"We came here to Bloomington in order to start a monastery so we could serve our lineage," said Kuten Lama. "This Monastery is not dedicated to any one culture of peace but it is a space where people of all assemblies can practice. We want all of the people who come from far away to feel that this is their Monastery."
Ven. Jamyang Lama, originally from Nepal, has been a monk for more than 15 years.
"This celebration is an offering of our gratitude to the community of Bloomington and to all of the people who have helped us follow our lineage," Jamyang said.
Ven. Jamyang Lama, along with Ven. Kuten Lama have been living in Bloomington at the DGTL Monastery since it opened more than 10 years ago.
A small number of monks moved to Bloomington in 1997 and built the DGTL residence at 102 Clubhouse Dr. in order to keep their teachings and culture alive. Kuten Lama was one of those monks. The monastery is expanding, and the monks have been able to purchase 128 acres of countryside less than 15 minutes outside of Bloomington. The festivities were held on this new land, an extensive clearing surrounded by trees and the sky, far from the noise of the city.
People from Minneapolis to Nepal gathered on folding chairs and hand-made rugs under a white tent where most of the festivities took place. Dandar, a monk visiting from Mongolia, came to America for the first time only three days before the ceremony in order to attend.
Lisa Farnsworth has been studying with the DGTL monks for over 11 years.
"I had no idea what it would grow into. Kuten Lama's drive, vision and compassion have brought great changes, not just for those practicing but for the entire community," Farnsworth said.
Suzy Fulkerson, an IU alumna, has also been practicing with the DGTL monks in Bloomington since the monastery's beginning. Fulkerson has witnessed the growth of the monastery in Bloomington.
"We started with a one-story farmhouse," Fulkerson said. "You are given very specific, step-by-step instruction in order to get where you want to go, and you see the monks as living examples. This isn't a 'pie in the sky' sort of – teaching this is real."
After a lunch of Tibetan delicacies and games for the entire family, the celebration came to a close with live bands from Bloomington and all over the world playing music of hope and peace.
The DGTL Monastery holds teachings every Sunday and discussion sessions on Wednesdays. More information can be found on their Web site at www.ganden.org.