Korean Buddhist Temple holds grand opening ceremony
by Eric Hagen, ABC Newspapers, August 13, 2008
Andover, MN (USA) -- For 19 years, the congregation of a Korean Buddhist Temple named Sam Bul Sa has met in two different homes. Now, they have a facility that give them more space to worship.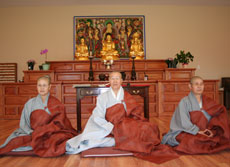 << Hyang Hee is the head priestesses for the Sam Bul Sa Korean Buddhist Temple in Andover, which had its first weekly Sunday service on June 29 and had a grand opening celebration last Saturday, Aug. 9. Ilsoo and Yunsoo are two Korean Buddhist priestesses who are helping with the transition of the Sam Bul Sa congregation from a Brooklyn Park home to the new temple in Andover. Photo by Eric Hagen
Sam Bul Sa was founded in 1989 by Myong Prescott.
For the first year or two, the congregation met in a room in Prescott's home on Penn Avenue in Brooklyn Park. Sam Bul Sa of Minnesota then bought another home on West River Road in Brooklyn Park and worshiped there until June 29 when the services moved to a new temple in Andover.
The temple is located at 14575 Prairie Road N.W., on the northeast corner of Andover Boulevard and Prairie Road.
"For many, many years we've been trying to get into better quarters because we've kept growing," said Jack Prescott.
The temple is adjacent to a home where the head priestesses Hyang Hee will live. The four-acre property the home and temple sits on will give a lot of space for children to run around.
"You'd like to have a little bit of land," said Chil Kwon, a spokesperson for Sam Bul Sa. "We have a lot of kids. They need some space to run around."
Sam Bul Sa bought the property in February 2007 and broke ground in December 2007 after the Andover City Council approved the conditional use permit to allow a temple to be added to an existing home.
Congregation members have volunteered whenever possible. Kwon said about 20 people helped plant 134 trees.
Services will be from 11 a.m. to noon each Sunday. Kwon said 20 to 30 people regularly show up for the weekly services, but occasionally more than 50 people attend.
If there is a special event, there have been up to 100 people in the past. There are five annual events that mark special occasions for Buddhists.
There will also be sessions on Zen, but that schedule has yet to be determined.