Buddhist monk granted special approval for group gatherings in Leighton Township
by Julie Makarewicz, The Grand Rapids Press, August 13, 2008
LEIGHTON TOWNSHIP, MI (USA) -- Buddhist monk Thomas Nguyen will be able to continue have group gatherings at his home after receiving special approval from the Township Planning Commission Wednesday.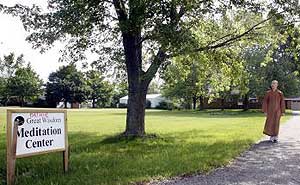 << File Photo
Buddhist monk Thomas Nguyen walks along his driveway on the five acres he owns near Moline.
Nguyen turned his two-stall garage on Division Avenue south of 144th Street near Moline into a meditation room. The ranch-style brick home sits on 5 acres. Nguyen has been inviting people over mostly for Saturday and Sunday meditations.
That all threatened to come to an end this spring when Township Supervisor Spencer Moore visited the home, citing Nguyen with a zoning violation.
Nguyen lives in an area zoned for agricultural uses. Churches are not allowed in those zones.
Grand Rapids attorney Marc Freed, who also is a student of Nguyen's, suggested Nguyen seek the special land use for a home occupation. He cited a federal law called the Religious Land Use and Institutionalized Persons Act that prevents local zoning officials from discriminating against or burdening religious groups.
Freed said he is satisfied with the Planning Commission's decision.
"I thought it was handled very constructively and in a mutually respective manner," Freed said. "I understand why the Planning Commission has to express legitimate concerns, and I don't blame them for asking questions."
Planning commissioners voiced concerns about traffic safety with vehicles moving in and out of the home's one-lane drive. They also said they wanted to make certain there wasn't any disruption to the neighbors.
Township Planning Consultant Mark Sisson said in his review the nature of Nguyen's meditation meetings are similar to a home occupation such as a consulting or counseling services, or the office of a minister.
Planning commissioners approved the special use with conditions limiting the portion of the home used for the meditation room, and that the home stay intact as a primary residence. They also established that small indoor meetings of 8 to 15 guests are allowed on Saturdays from 9 to 11 a.m. and on Sundays between 9 a.m. and 1 p.m. Occasional weeknight gatherings also are allowed.
Up to six times annually, Nguyen can host larger, mainly outdoor gatherings of up to 60 people. Sisson said this would be similar to a resident having a family reunion or graduation celebration.
All parking must be behind the home, with no vehicles allowed to park along the road.
Township residents Ron and Carol Mrozinski told planning commissioners they didn't see any problem with the use. Although they don't live next to Nguyen or have any relationship with his group, they said they were shocked that he had been cited with a violation.
"We just wanted him (Nguyen) to know that not everyone agrees with what happened and we wanted to welcome him to the area," Ron Mrozinski said.