Thubten Norbu cremated in outdoor ceremony
By Robert King, Indiana Star, September 10, 2008
More than 100 paid respects Wednesday; today, the body of the Dalai Lama's brother will be cremated on a ceremonial pyre
BLOOMINGTON, Ind. (USA) -- Mourners from around the country filed through the Tibetan Buddhist temple here Wednesday to bid farewell to a man they described as a friend, a freedom fighter and a high lama.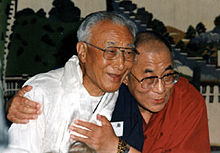 << Norbu (1922 - September 5, 2008) with brother Tenzin Gyatso, in 1996
Now they await his reincarnation, which they expect anytime.
More than 100 people in a procession dropped yellow, blue and white silk blessing scarves at the feet of Thubten J. Norbu, a former Indiana University professor who was the eldest brother of the Dalai Lama.
They were part of a funeral unlike any other in Indiana and extremely rare in the United States.
Norbu, who is known to Buddhists as Taktser Rinpoche, died Saturday at his temple residence at the age of 86. Preserved since then with ice and air conditioning, Norbu's body is being given a traditional sendoff for a high lama, or Buddhist teacher.
As mourners filed into his room, Norbu was positioned upright in his bed, seated in the lotus position and adorned with an ornate Buddhist headdress. Amid a fog of incense, eight robed monks sat along a wall chanting Tibetan prayers, clanging cymbals and ringing bells -- all aimed at helping him along his journey to rebirth.
"I didn't know what to expect, but it seemed right," said Cheryl Maxwell, Nashville, who has occasionally dropped in on her former professor while visiting the tranquil setting of the Tibetan cultural center and temple Norbu founded.
Today, Norbu's body will be burned outdoors in a ceremonial cremation behind the temple. The rite will take place on a special pyre made of soft, unfired bricks that was still being built Wednesday under the guidance of Tibetan monks. Family members said they were given special legal permission to conduct the outdoor cremation because of their religious beliefs and Norbu's place in the community.
Thubten Jigme Norbu, born in 1922 in Eastern Tibet, was identified by the 13th Dalai Lama as the 24th reincarnation of Taktser Rinpoche, a high lama from centuries past.
After Chinese troops invaded Tibet in 1949, Norbu was approached by the Chinese, who sought his help in killing his brother. In return, they offered to make him the leader of a Chinese-dominated Tibet.
Instead, Norbu warned the Dalai Lama. He worked with the CIA to run supplies to the anti-Chinese resistance before leaving in 1951.
"If there was one thing that was a constant in his life," said Elliot Sperling, a professor of Central Eurasian studies at IU and a former student of Norbu's, "it was his devotion to Tibet as a nation."
Eventually, Norbu was recruited by a friend on the faculty at IU and came to Bloomington in 1965.
In 1979, he founded what is now known as the Tibetan Mongolian Buddhist Cultural Center with 108 acres of donated land and a vision for a place that would be a lifeboat for Tibetan culture and religion.
Its current director, Arjia Rinpoche, said he expects more visits from the Dalai Lama despite the passing of his brother, but that the Tibetan spiritual leader won't make it to Bloomington this week. The Dalai Lama was treated for exhaustion in India in late August.
Norbu's passing has prompted prayer vigils in Tibet, India, Russia, Mongolia and Europe, among other places. In Dharamsala, India, the Tibetan government-in-exile shut down the day the news of his death was announced.
His friends and followers in the Buddhist faith already are anticipating his reincarnation.
They expect it to come within the first 49 days after his death, with the form and location uncertain. Most expect him to come as a person.
Larry Gerstein, a Fishers resident who is a Buddhist and president of the Indiana-based International Tibet Independence Movement, said the Dalai Lama himself will direct the search for the 24th Taktser Rinpoche.
Typically, Gerstein said, clues to the reborn child's location come in the form of notes left by the deceased, the dreams of his closest students and other signs.
The prayers and chants are all aimed at helping Norbu safely find his next home. But because Gerstein believes Norbu has been through the process before, he's not worried.
"He has been reborn 23 times," Gerstein said. "We would hope by now he knows how to do it right."
Read also: Thubten Norbu, eldest brother of Dalai Lama, dies