Dalai Lama to return to Bloomington in May
By Robert King, The Indianapolis Star, June 19, 2009
Visit will be first to state for Buddhist leader since the death of his brother in September
Bloomington, Indiana (USA) -- The Dalai Lama will come back to Indiana next spring -- his first visit since the death last year of his elder brother, who founded a Buddhist cultural center near Bloomington.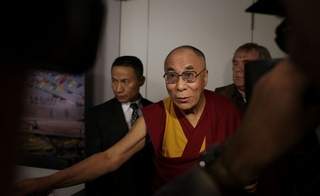 << The Dalai Lama, leader of Tibetan Buddhists worldwide, will make his sixth trip to Bloomington in May, according to the Tibetan Mongolian Buddhist Cultural Center.
He last visited Indiana in October 2007, when he spoke at public events in Bloomington and in West Lafayette. He did not return last fall for the funeral of his elder brother, Thubten J. Norbu, a former Indiana University professor known to Buddhists as Taktser Rinpoche.
The announcement of the Dalai Lama's return came from Lobsang Nyandak, the Dalai Lama's representative to the Americas, during a visit to the cultural center. Details of the visit are still being worked out.
While the Dalai Lama is the worldwide leader of Tibetan Buddhists, his visits attract an audience that includes Buddhists from other traditions, people who want to see a Nobel Peace Prize laureate and the merely curious.
Beyond that, the visit is another reminder why Central Indiana has become a haven for Buddhist traditions from China, Korea, Vietnam and Japan, traditions that respect the Dalai Lama's teachings but might not follow his practices.
In his most recent visit, he gave 12 hours of teachings and two public speeches on a tour that was expected to generate as much as $1 million for the Bloomington-area economy.
Just before reaching Indiana, he was given America's highest civilian honor, the Congressional Gold Medal.
He has said he hopes to make Bloomington's Cultural Center a western version of the Kumbum Monastery in Tibet, which has been one of the main training grounds for Tibetan monks.