Buddhists urged to make religion real part of life
By Peter Smith, The Courier-Journal, May 13, 2010
BLOOMINGTON, Ind.( USA) -- Hundreds of Buddhists on Thursday crowded around a Buddhist temple in a verdant field on the edge of this university town, most natives of Tibet or neighboring Mongolia who now live in the Midwest.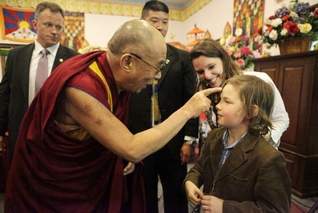 << The Dalai Lama, left, talks to Kai Grise, 9, after a news conference in Bloomington, Ind. on Thursday May 13, 2010. (AP Photo/The Herald-Times, Jeremy Hogan)
Then the dark skies suddenly opened, drenching participants wearing traditional clothing or modern T-shirts and jeans.
But no one was budging or complaining. They were eagerly awaiting a more intimate encounter with their spiritual leader, the Dalai Lama, after hearing 11/2 days of his teachings at Indiana University.
Soon they had their wish, crowding into every available space in the small temple, still soaked from the rain.
There the Dalai Lama urged them to learn and preserve their Buddhist traditions in their new world. Many held cameras or phones aloft, recording his every word on video.
The Dalai Lama was paying his first visit to the Tibetan Mongolian Buddhist Cultural Center since the 2008 death of his brother, Thubten Norbu, who founded the 118-acre center in 1979.
The center — which survived a financial crisis earlier this decade that prompted reforms in its management — is part of the Dalai Lama's strategy to preserve the Buddhist traditions and culture shared by Tibetans and Mongolians half a world away from their homelands.
The Dalai Lama, their spiritual leader, used the occasion to speak to the group only in Tibetan with a Mongolian translator, forgoing the English translator used for broader audiences in most of his public appearances in Bloomington in the past two days.
He told the group, according to those attending, that Tibetan and Mongolian Buddhists have a freedom of religion in the United States greater than in their homelands. But they have to use that freedom to study their religion and build their character, not just to do prayer rituals, such as inviting monks to bless their homes.
He also voiced those concerns in English at a news conference earlier Thursday at the center.
"Whether we accept the religion or not is up to the individual," said the Dalai Lama, 74. "Once we accept the religion … then we should be 21st century Buddhists. That means we should know whole Buddhist structure. … Just faith without knowing the system, then real (personal) transformation will not take place."
He said the center is helping followers learn.
"Any Buddhist center should be a learning center, not just a place for some worship," he said at the center's Great Hall, surrounded by a library of books, murals and wax-butter statues in Buddhist traditions.
"Spirituality very much alive here," he said. "That means my late brother's spirit very much still exists here."
The center holds a variety of activities, such as prayer and studies, and has monks in residence.
While urging immigrant Buddhists to learn their faith, he had a different message for most people living in the United States.
He said Christians and Jews "have your own rich tradition" and don't need a new religion, although he said all peoples could benefit from Buddhism's philosophical and scientific insights on the mind.
Many native-born Americans have converted to Buddhism, often because of the cross-cultural appeal of the Dalai Lama, who has traveled the world from his base in India in the half-century since his exile from Chinese-ruled Tibet. In Louisville, a group of converts organized the Drepung Gomang Institute, with teachings by resident Tibetan monks based at a monastery with a similar name in India.
The Dalai Lama's presence resonates for followers of his branch of Buddhism — natives of Tibet, Mongolia and some neighboring Himalayan lands.
Tsogzolma Tsogbadrakh, of Clarksville, Ind., said she was never very religious, having grown up under Mongolia's former communist government. But she and her family used to go to shrines with her devout Buddhist grandparents.
She said she came to see the Dalai Lama because she still feels a tie to that heritage.
"I think it's just in the blood," she said afterward, walking with her sleepy 4-year-old son in her arms. "I miss my country. Meeting here with him and others of the same origin … it's the same feeling (as going) back home."
Ankhjargal Gomboragchaa, a native of Mongolia now living in Chicago, agreed.
"It's really important to us," she said. "We're so excited."
As Namuunbayar Baljinnyam's two young children slept in their wet clothes on the temple floor at the side of her husband,, the couple listened attentively to the Dalai Lama's call for parents to learn their religion and pass it on, not just to say they're Buddhists by tradition.
"We have to learn more, we have to read more," Gomboragchaa said.
This was the Dalai Lama's sixth visit to Bloomington. On Wednesday, he and American Muslim leaders held a landmark summit recognizing each others' religions as valid spiritual paths.
He is due to speak in Indianapolis on Friday before traveling to other states for public talks and other appearances.