Buddhist temple is target of more vandalism
by Barb Ickes, The Quad-City Times, July 28, 2010
Buddhist temple is target of more vandalism
Davenport, Iowa (USA) -- For the second time this month, a Buddhist temple in Davenport has been targeted by vandals.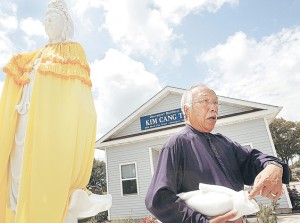 << Hai Nguyen shows the broken hands from the 12-foot marble statue of Lady Buddha at the Kim Cang Temple in Davenport earlier this month. A few days ago, eggs were thrown at the temple. Jeff Cook/Quad-City Times
This time, someone threw eggs at the Kim Cang Temple, where a 12-foot marble statue of Lady Buddha was attacked July 4. The hands on the religious symbol, which are four inches in diameter, were broken off the statue.
Police investigated the vandalism, but no one was arrested.
Hai Nguyen and his wife, Mui Dinh, paid $13,000 to commission Lady Buddha and have her shipped to Davenport from their homeland of Vietnam. The statue arrived June 9.
Nguyen said Wednesday that he is unsure whether the statue was targeted Tuesday when eggs were thrown at the temple. If it was, he said, the vandals missed.
"No big deal this time," he said of the egging. "But they send a message. I'm kind of worried about it, you know?
"People keep bothering the temple. I can't believe people keep bothering people."
Davenport Police Detective James Meier said he learned about this week's vandalism Wednesday and said he was encouraged by the fact members of the temple recently installed video-surveillance cameras.
Nguyen said he hopes the cameras captured what he thinks was a drive-by assault.
"Buddhists, we don't hate people — even people who do that to statue," he said. "We hope they not do it again."
A new set of hands is being made for the statue and are expected to arrive for reinstallation in about two weeks.