Tibetan monks create sand mandala
By BOB SCOTT, JCOnline.com, November 13, 2010
Lafayette, ID (USA) -- Once again, Lafayette is opening its heart to Buddhist monks touring America.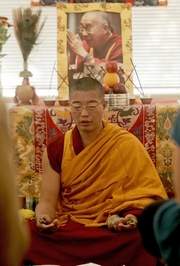 << Lobsang Dhondup chants with other Tibetan Buddhist monks before they start making a sacred sand mandala Thursday at the Tippecanoe Arts Federation in Wells Community Center in Lafayette. (By Michael Heinz/Journal & Courier)
Eight monks started making a sacred sand mandala Thursday and will continue through next week at the Tippecanoe Arts Federation.
During the opening ceremony Thursday, the monks chanted a blessing for the colored sand. A horn, cymbal, drum and handbell were used to emphasize parts of the 15-minute ceremony.
Through a translator, Lobsang Dhondup explained the sand mandala, which is a Buddhist tradition using geometric designs inside a circle. The mandala is used for meditation and contains several Buddhist doctrines.
"The mandala is indispensable for the practice of Buddhism," Dhondup said. "This is one of our spiritual exercises.
"Through the ritual text we try to meditate and think about how one can be enlightened. We get peace of mind and beautify all the negatives."
He said the sand mandala not only brings attention to Buddhism and the Tibetan culture, it also puts the spotlight on Tibet's struggle for freedom and independence from China.
Before and after the opening ceremony, the monks made precise measurements on a square board placed on the floor in the east gallery of Wells Community Center, home of the Tippecanoe Arts Federation.
Using rulers, protractors and lead pencils, the monks meticulously measured and marked the board. Small containers of colored sand will then fill in the designs.
On Nov. 20, the sand mandala will be wiped away. Some of the sand is given to spectators and some will be taken in a procession to the Wabash River. The destruction of the mandala is a symbol of the impermanence of life.
The Tibetan monks are part of the Drepung Gomang Monastic College in south India. The Drepung Gomang Institute in Louisville is the host. The monks arrived last month and will tour the eastern United States for almost a year.
When asked what his favorite food is during the trip, Drepung smiled and quickly said, "Pizza!"
Dave Raymer is coordinating the monks' visit to Lafayette. He is a Christian who accepts Buddhist methods of meditation and prayer.
This is the Tibetan monks' fourth visit in seven years.
"Monks first visited in 2003," he said. "We didn't know if Lafayette would accept them. We were blown away by how people embraced their visit."
Keith Schmidt, who is accompanying the monks, is part of the institute in Louisville.
"The monks have a presence that seems to draw people," he said.