Buddhist monks' art project spreads message of peace
by Sara Shepherd, LJWorld.com, September 5, 2012
Seven Buddhist monks was at the Spencer Museum of Art this week painstakingly constructing a sand painting called dul-tson-kyil-khor, meaning "mandala of colored powder." On Friday, the monks will tossed the sand painting into Potter's Lake in a symbolic gesture.
Lawrence, KS (USA) -- Yes, Tenzin Dekyong confirms, creating sand paintings is as difficult as it looks.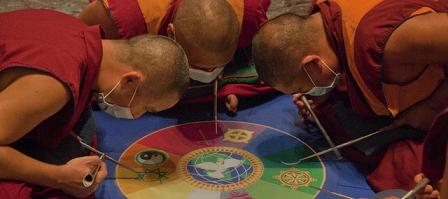 Photo by Richard Gwin
Monks' necks and backs hurt from hunching over their work, faces just inches from the sand. And, yes, sometimes they make mistakes, which must be mended just as carefully - if not more so - as the purposeful details are created.
On Tuesday, Dekyong and six other Buddhist monks from the Drepung Gomang Monastery in India took a four-day process of creating a 5-by-5-foot mandala out of millions of grains of colored sand, painstakingly funneled into intricate designs on a platform in the Spencer Museum of Art Central Court, 1301 Miss.
On Friday, they swept up their entire project and poured the sand into Potter Lake.
The temporary display, Dekyong said, is a reminder that all we have — no matter how beautiful or carefully created — is impermanent.
Friday's events included chanting and prayers and a procession from the museum to the lake. The monks believe placing the sand in a nearby body of water enables the water to carry the mandala's healing energies throughout the world, according to an announcement from Kansas University.
Mark King and Rhonda Houser of Lawrence brought their 7-year-old son, Liam Kinghouser, to see the mandala in progress.
"We thought he might enjoy seeing them concentrating and creating something beautiful," Houser said.
King said he'd watched monks creating a sand mandala once before, in Virginia, and that he'd wanted to visit since he heard the Spencer would be playing host to a similar event.
"It was such a good experience," King said. "It's just amazing — so peaceful."
Through the course of building the mandala, a Sanskrit word for circle, the monks hope to spread their message of peace, love, compassion, unity and healing, Dekyong said. He said that specifically includes their hope for peace in Tibet, where Communist Chinese rulers do not allow Buddhists such as the monks to freely practice their religion.
The Drepung Gomang Monastery is in southern India, but most of its 2,000 monks are Tibetan. Their monastery originally was in Tibet, but the Dalai Lama and followers fled when the Chinese invaded and later rebuilt in India.
The design under way at the Spencer is called the Interfaith World Peace mandala. It has symbols signifying the world's 12 major religions, the four elements and the four seasons.