Far from home, near her faith
BY CHRISTINA M. WOODS, The Wichita Eagle, May 27, 2005
When a WSU student from Sri Lanka couldn't find a temple for her particular brand of Buddhism, she improvised.
Wichita, Kansas (USA) -- She came to the United States from Sri Lanka two years ago with two bags in hand and her parents' words --"Do your studies first, then you can do what you like" -- in her heart.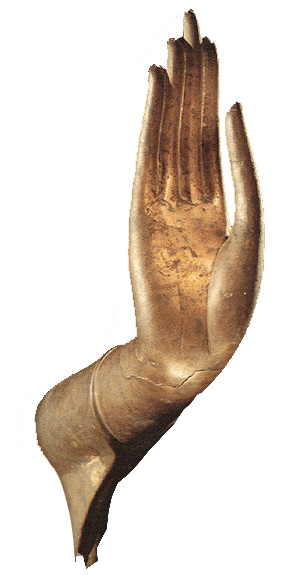 Like the majority of Sri Lankans in Wichita, Asanka Fernando, now 24, is part of Wichita State University's international student body.
Fernando has a zest for undertaking new experiences but is learning as an opinionated young woman that adapting doesn't always mean accepting -- especially in matters of faith.
She said she couldn't find a Buddhist temple in Wichita that practiced Buddhism as she was used to practicing in Sri Lanka.
So Fernando created her own religious sanctuary in her apartment using candles and a Buddha.
"I believe in my religion," she said. "My religion gives me good things."
Fernando said whenever something bad happens in her life, she asks her lord for guidance. Buddha, she said, gives good things to people who walk a good path.
Fernando's parents instilled in her a deep love for Buddha as she was growing up.
Fernando said young people in Sri Lanka listen to, respect and adhere to their parents' instruction. The Sri Lankan family unit is strong, she said.
"We don't have nursing homes in Sri Lanka," she said, which is why Fernando plans to return home after graduation -- unless she gets a good job. Then she'll stay awhile.
Although she has an older brother living in Chicago, Fernando said her friends in Wichita have eased the transition.
She goes camping with friends such as Damitha Abeywardana, who attended school in Sri Lanka with Fernando and now attends school with her in Wichita.
Abeywardana said most Sri Lankans don't drink or go dancing too often.
"We must keep our studies intact," he said.
Independence, Freehand said, becomes key to thriving in the United States, especially since the census reports only 39 Sri Lankans living in Wichita.
"We have to do everything ourselves," she said, adding that mothers in Sri Lanka provide the bulk of the family's needs from ironing clothes to cooking meals. "I like this (American) culture."