One prisoner's path from racism to Buddhism
by MARIA SUDEKUM FISHER, Associated Press, Nov 24, 2006
NEWTON, Kansas (USA) -- Tony Farnan's back tells a story. "White Trash" is tattooed across the lower portion. A handcuffed, clenched fist with lightning bolts and a swastika takes up much of the middle. Farnan got the tattoos when he was younger, doing drugs, picking fights and living up to his identity as a pretty rough racist.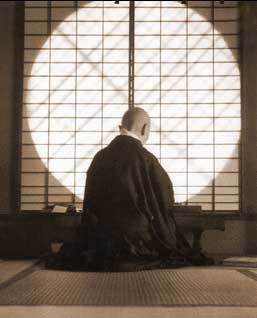 But now "White Trash" is covered up with another tattoo, a large purple lotus blossom. The clenched fist has been turned into a great big foo dog, the mythical Chinese protector of sacred places. If you look hard enough, you can make out the fist. But you have to know it's there.
Farnan, 41, has spent hours and thousands of dollars having his tattoos covered up; at $300 a square inch, the cost of removing them was too high. But he's made other, more important changes too.
He now takes care of his 95-year-old grandfather at their farmhouse outside Newton. He has sworn off drugs, violence and anything else that helped land him in jail. He's no longer racist.
Farnan owes this new life to a discovery he made in prison.
"Buddhism has basically saved my life," Farnan says.
Farnan is one of a growing number of people who have discovered Buddhism while behind bars, thanks in part to the popularity of the religion nationwide and to the scores of Buddhist volunteers heading into prisons to tend to inmates, male and female, who were raised Buddhist or those who discovered the ancient religion later.
Buddhism has no centralizing authority and its practices vary greatly in the United States and around the world, although meditation is a common ritual.
The exact number of U.S. Buddhists is not known. However, the population grew significantly after the United States eased immigration rules in the 1960s, admitting millions of Asians. American interest in the faith spiked during youth rebellions of the same period, gaining many more followers who remain active today.
Several organizations nationwide now serve Buddhist inmates. The Prison Dharma Network in Boulder, Colo., gives yoga and meditation classes to inmates and also sends books and correspondence to prisoners across the country. The Buddhist Peace Fellowship in Berkeley, Calif., has meditation, yoga, and journal writing programs in several California prisons. The National Buddhist Prison Sangha in Mt. Tremper, N.Y., has been supporting prison inmates with visits and letters since 1984.
Farnan's route to Buddhism started on his third trip back to prison in 1999.
"I was known as a mighty whitey," he says. "In the '80s, in prison you had to pick sides, so I picked the white guys. You could say I was an extremist."
Farnan picked a fight with a young inmate at the Sedgwick County jail, where he was serving time for possession of drugs and burglary. Farnan roughed up the other guy badly.
When Farnan returned to his cell, he was overcome with something unfamiliar.
"I had the feeling like I had just beat up my little brother," he says. "I thought, `I have to do something.'
"Two hours later I was sitting on the cell floor crying because I had no idea what to do. I thought, `What I want to do is I want to be a man of honor and integrity, most of all.'"
Farnan was raised Catholic, but he didn't think that held any promise.
"The point I was at then was where most guys pray to God," Farnan said. "And I knew that wasn't going to happen. God helps a lot of people, but I knew he wasn't going to help me."
He had learned about meditation from studying martial arts. So he started meditating. That helped some. Then Farnan started studying philosophy, ordering books from the outside. Immanuel Kant was appealing.
"I knew what not to do, and eventually things started becoming more clear to me about what was right and what was wrong."
He got books on Buddhism, which gave him some guidelines. But months later after he had been sent to the Norton Correctional Facility, Farnan needed a teacher. He looked for a Buddhist session - or callout as it is referred to in prison. Norton didn't have one, so Farnan got by with his books and meditation.
Then he was moved to the Lansing Correctional Facility, where a Buddhist group had been meeting regularly.
"I wasn't looking for a religion. I was looking for some direction and something that could help guide me."
The callouts helped. But for the most part Farnan did "a lot of deep meditation and thinking," trying to keep things simple.
"I don't know, it was probably 2002, early 2003, when I really understood that compassion was kind of the answer.
"So here I am with the realization that I had to be nice. How am I going to do that in prison? I was little concerned about acceptance. More so than I had ever been."
In prison, where hierarchy and pecking orders are a way of life, child molesters are on a bottom rung. But Farnan, armed with a need to show kindness, sought them out. The child molesters ate alone, so Farnan joined them for meals.
Other inmates told him he was nuts to be sitting with them. Farnan told them they were all capable of horrible things. Some might not act out, but they were capable.
He started curbing his impulses, too. If another inmate was playing music too loud, the old Farnan would have gone over, picked up the radio and smashed it.
"Now I realized that everyone is suffering, and he's probably playing the music loud to ease his suffering. I still might ask him to lower the volume. But I wouldn't smash it."
Farnan, who was released from custody in February 2006, makes a living doing foundation repair. He also tutors people in math and meditates daily. His friends and family notice the change, and ask him what's different.
He doesn't give long explanations. But if they ask about the lotus blossom and the foo dog tattoos, he might tell them how they relate to life as a Buddhist.
"I don't take my shirt off a lot," Farnan says. "But if I do, I don't want to offend anyone.
"I used to be proud to wear those tattoos, but this time in prison, I was ashamed. I decided if I really believe what I'm doing, then I have to change everything, including that."
So he is.