A Buddhist blessing on Aspen
By Charles Agar, Aspen Times, January 6, 2007
Aspen, Colorado (USA) -- Silence. The swish of cloth. A doorway opened, and a Buddhist lama from Bhutan entered a conference room in Aspen to bless an eclectic group of the devout and curious Fri­day.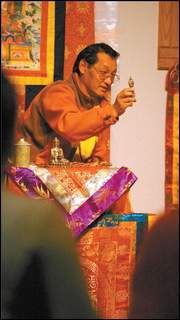 << Buddhist monk Gangteng Tulku Rinpoche offers a New Year's blessing Friday for locals in the Rio Grande meeting room in Aspen. (Jordan Curet/The Aspen Times)
The city's Rio Grande con­ference room was a makeshift monastery, complete with medi­tation cushions and colorful Buddhist tanka paintings cover­ing the walls.
Trailed by monks in saffron robes, Gangteng Tulku Rin­poche, a Buddhist master from the Kingdom of Bhutan, wore an orange shawl over his North Face fleece. He opened with a guttural chant, then spoke about the blessing ceremony through a translator, Sarah Harding, a pro­fessor at Naropa University in Boulder.
Rinpoche is a teacher of the Dzogchen (Great Perfection) line of Buddhism. Since he was a child he has been recognized as the ninth incarnation of Pema Lingpa, the patron saint of Bhutan, and entered monastic life, according to his meditation center's website.
He sponsors more than 30 monasteries in his native Bhutan and around the world. Rinpoche's sect does not require monks to be celibate: He's mar­ried and has children who are a good bets to be reincarnations of Buddhist saints.
The Roaring Fork Friends of Tibet, with the help of other area foundations, sponsored this week's events, said Dennis Tuma, a member of the group.
"It's a time to reinvent your situation," Tuma said. "A spiri­tual dry cleaning."
Friday night's Kago, or blessing ceremony, consisted of ritual chants, and celebrants passed in front of the lama to receive blessing and a ritual protection cord the lama called "armor."
"Wear it all the time," the lama said in Tibetan, through translator Harding.
The ceremony was a way to remove "inner and secret obsta­cles and prevent things that might happen to you," the lama said. "It gives you more merit, long life and influence."
"He's just putting his energy out into the community and we're hoping that people respond in a positive way," Tuma said.
The more than 50 who gath­ered enjoyed samosas, momos and chai tea from Nepal Restau­rant in Glenwood Springs after the ceremony.
Rinpoche is on a prolonged U.S. tour, which included a visit to his meditation center in Crestone before stops in Crest­ed Butte, Boulder and Los Angeles.
Rinpoche will hold a work­shop in Nyingma Buddhism from 9 a.m. to 5 p.m. Saturday and 1-5 p.m. Sunday. Tuition is $ 50 per session and $ 125 for the weekend. The lama and his entourage of monks will also hold a ski- up Tibetan fire bless­ing at noon Jan. 10 in front of the ski patrol hut on Aspen Mountain.