Distinguished teacher Jeremy Hayward to speak about connection between science and Buddhism
By KELLI LACKETT, The Coloradoan, Jan 14, 2007
Fort Collins, CO (USA) -- There has been a great interest in recent years in the relationship between Buddhism and science. In 2005, the science of meditation was the subject of a Time magazine cover story.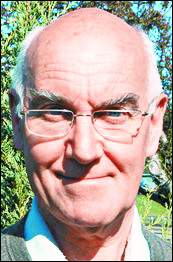 << Jeremy Hayward
A prominent Buddhist teacher will visit Fort Collins next week to talk about how and where science and Buddhism meet.
Jeremy Hayward is a senior teacher in the Shambhala tradition of Buddhism. Trained as a nuclear physicist and molecular biologist, Hayward - who helped found Boulder's Naropa University in 1974 - has written three books on science and Buddhism.
"Consciousness is the leading edge of science," Hayward said in a phone interview from Nova Scotia, where he teaches.
"Science has always looked at things from the third person point of view and tried to eliminate the subject of the experience," Hayward said. "Buddhism has dealt with the subject. What is the nature of the mind? It has developed techniques for examining that free from bias.
"The merging point of the outside and inside is perception. This 'I' perceives the object. How does this perception work? How does it perceive the outer world?" Hayward said. "Buddhism has a lot to say about perception."
In an event hosted by the Fort Collins Shambhala Meditation Center in conjunction with the Geller Center for Spiritual development at Colorado State University, Hayward will deliver a free public talk at 7 p.m. Thursday at CSU's Lory Student Center, Rooms 213 and 215. Another public talk about meditation as tool for mindfulness will be held at 7 p.m. Jan. 23 at the Armstrong Hotel, 259 S. College Ave. Hayward also will lead two daylong workshops on Jan. 20 and 21.
Hayward has long been part of the conversation between scientists and Buddhist teachers. He took part in the first dialogue with the Dalai Lama on science and Buddhism in 1987 in Dharamsala, India, and co-edited the proceedings in "Gentle Bridges; Conversations with the Dalai Lama on the Sciences of Mind."
"Of all the people I've ever met, (the Dalai Lama) is the most clear embodiment of incredible sharp intellect and deep compassion and friendliness," Hayward said. "He has contributed to and nourished the dialogue."
Hayward said that Buddhism itself is a science - a science of the mind.
"It's not a religion really," he said. "With Buddhism, you start with your experience. That is why scientists have a great deal to talk about when it comes to Buddhism."