Pueblo's Zen Buddhists
By MARVIN READ, THE PUEBLO CHIEFTAIN, March 24, 2007
Pueblo, CO (USA) -- There's a small and thriving community in Pueblo that practices and tries to live Zen Buddhism. "We're not New Age anything, and we're not 'freethinkers,' " said an affable David Cockrell, who is the meditation instructor for the local assembly, known as a sangha.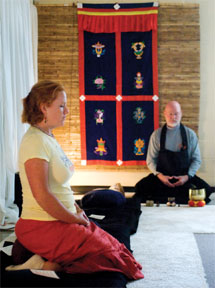 << CHIEFTAIN PHOTO/BRYAN KELSEN
Kate Jarrett (left) and David Cockrell, members of Wet Mountain Sangha, meditate at the beginning of a Zen Buddhist service Wednesday.
Cockrell, a senior planner for the City of Pueblo, is key in the local community, which meets Wednesday evenings in a lower-level room of Our Lady of Assumption Catholic Church, 900 E. Routt Ave.
He also points out that that the local community is American, even though roots of Buddhism wind back to Asia and India, where Siddhartha Gautama, founder of Buddhism and considered as the supreme Buddha, was born, about 500 years before Christ.
Cockrell, 56, was born into the Methodist tradition, but eventually found himself a member of the Unitarian Universalist church, "where I found the liberty to explore the Buddhist philosophy," he said.
Cockrell's wife is still associated with the UU church, in a pastoral role in Colorado Springs.
A Zen Buddhist for 11 years, Cockrell said he has used both pathways into Buddhism, the more formal taking of vows and a second route, becoming a student and forming a relationship with a teacher that he said is more intense than that of a priest-parishioner.
His teacher since 2000 has been Joan Sutherland Roshi, a senior teacher of Zen Buddhism and the "holding teacher" for the Pueblo group, known as the Wet Mountain Sangha. She lives in northern California's Sonoma County and teaches through her Open Source Project, a network of Zen practitioners and communities in the western U.S.: northern California; Colorado Springs; Pueblo; Santa Fe, N.M.; Arizona; and Texas. Cockrell said the local sangha, or assembly, has about 60 members, with a core group of 15 or so practitioners.
The community notes that, "There are no membership dues or sign-up sheets. The sangha considers anyone to be a member who wishes to be."
A typical session, beginning at 6 p.m., includes chants, meditation (a central practice of Zen Buddhism), readings and announcement and drinking of tea.
Cockrell said that Buddhism is a non-theistic religion, meaning that there is no God or gods as a focal point, even though some deities can play roles in some forms of the religion.
Followers accept four "seals," or hallmarks of authenticity, each of which deserves lengthier explanation than can be set forth here:
All compounded things are impermanent.

All emotions are pain.

All things have no inherent existence.

Nirvana is beyond concepts.
While a lifetime could be spent contemplating the four seals and their relevance and ultimate meaning, suffice it to say that their message is one indicating that everything changes; that detachment (but not indifference) from all else is essential; that everything and everyone are connected; and that in lieu of afterlife, what we have now is all we have. Period. That's not to imply nihilism, but to encourage a fullness and richness to life and contemplation.
For Zen Buddhists, the teaching's value is not in and of itself, but in the freedom that comes from one's own understanding, beyond the entrapments of beliefs and other attachments.
Cockrell said that those who come to the "zendo," or meditation hall at Assumption, comprise a demographically diverse community.
"We are about equally divided between 20-somethings and people over 40. We're racially diverse, and we have, for example, a firefighter, financial planner, a couple of psychotherapists, teachers and construction-type people, as well," he said.
"I realize that it's difficult to explain concisely what this 2,500-year-old system is all about, but I just think it's important for the people of Pueblo to know that there is another, major, world religion in Pueblo, a different sort of worship opportunity."
He emphasized that the Wet Mountain Sangha is not an attempt to be Asian, but is a manifestation of an ancient belief system in an indigenous American setting.
And, according to the sangha's Web site, "Zen practice doesn't . . . require abandoning other religious traditions. Rather, it tends to deepen our understanding of religious traditions and practices."
The local community, guided by an eight-person steering committee, may be reached at www.wetmountainsangha.org . Cockrell is available by phone at 214-2949.