Mandala Construction at Longmont Buddhist Temple
by Lynn LUM, YourHub.com, June 28, 2007
Longmont, CO (USA) -- The Tri-State Longmont Buddhist Temple & the Drukpa Mila Center are hosting the construction and deconstruction of a sand mandala at the Longmont Buddhist Temple located at the NW corner of 287& Pike Rd. from Aug. 5, 9am-5pm.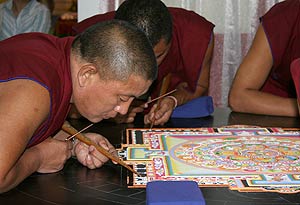 << A sand mandala being constructed (Buddhist Channel file pic)
Mandalas are important in the Buddhist tradition because they are artistic and physical expressions of conventional and ultimate realities in our lives. The ancient art of the construction of a mandala is a sacred practice which the Longmont Buddhist Temple is honored in hosting.
The form of a Tibetan mandala is one that reflects the impermanence of life because it takes the shape of a sand painting. The mandala being constructed will begin with a few grains of colored sand placed by hand on a 4'x4' board.
Slowly the painting of a Buddha land - or pure land of ultimate reality - appears representing the elements of earth. Each grain of sand is placed byhand and with caring thoughts of a trained monk to construct an entire world.
Visitors are encouraged to stop in and experience this world of the Buddha and watch a sacred shape take form - one grain of sand at a time. In addition, visitors will be encouraged to visit with members from the Drukpa Mila Center and the Longmont Buddhist Temple. Short talks and discussion on Shin Buddhism will be given by Gansho O'Dowd.
The final ceremony and celebration will be conducted at Kanemoto Park on Aug. 5th. There will be walking meditation, and a Shin Buddhist service followed by the ceremonial dispersal of the sacred sand back into the earth via the stream in Kanemoto Park.
Anyone interested in more information or interviews may contact Sensei Gansho O'Dowd at (720) 244-2299.
Where: Longmont Buddhist Temple at the NW corner of 287 & Pike Rd
When: 9am-5pm
Event Dates: This event takes place every Monday, Tuesday, Wednesday, Thursday, Friday, Saturday, and Sunday from 7/30/2007 through 8/5/2007.