Green Tara and Vajrasattva Empowerment
By Chris Packham, The Pitch, Sept 16, 2007
If you happen to be around Kansas City, keep your diary free for a week of happenings at the Rime Buddhist Center.
Kansas City, Kansas (USA) -- The bodhisattva is a figure from Buddhist mythology who chooses to remain actively attached to the world until all sentient beings achieve enlightenment.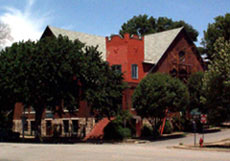 In other words, not only do they feel physically able to operate the airplane's emergency exit, but they'll also remain onboard until everyone slides safely down the inflatable raft.
The bodhisattva known as Tara has several forms, but Green Tara is the Buddha of enlightened activity.
Practitioners of Tibetan Buddhism — or anyone curious about the influence of bodhisattva thought — can attend a 7 p.m. service in her honor every Tuesday in the Rime Buddhist Center (700 West Pennway, 816-471-7073).
Visit by Phagyab Rinpoche
There will be a weekend visit by Phagyab Rinpoche from September 21-23 to the Rime Buddhist Center. The Rinpoche will be delivering lectures on the Lojong Teachings and will initiate Vajrasattva Empowerment during the event.
Ngawang Sungrab Phagyab Rinpoche is a ranking Tibetan Buddhist lama in the Gelugpa order. Born in Kham, Tibet in 1966 and ordained at the age of thirteen, Rinpoche began his monastic training at Ashi Monastery in Eastern Tibet before transferring to Sera Mey Monastery in South India where he trained under the tutelage of Ven. Khenpo Lobsang Jamyang and Ven. Khensur Geshe Tinle Topgye. In 1994, he was recognized as the eighth reincarnation of the Phagyab lama, a renowned Buddhist teacher from Eastern Tibet.
Lojong or mind training practice is the heart essence of Mahayana practice. Complete enlightenment is not possible without mind training. Lojong (Seven Points of Mind Training), were brought to Tibet by the great Indian master Atisha (982- 1054 AD) and written down by Chekawa Yeshe Dorje (1101-1175 AD), a Tibetan master in the Kadampa tradition. The teachings are organized around seven points that contain fifty-nine pithy slogans, Lojong focuses on the detailed methods one can use to awaken and cultivate their heart-mind to compassion and loving-kindness. Lojong is a powerful spiritual practice for transforming your mind.
If you go:
Sept. 21 - 23 Weekend Visit by Phagyab Rinpoche Lojong Teachings and Vajrasattva Empowerment
Friday, Sept. 21 - 7:30 pm - Introductory Talk
Saturday, Sept. 22 - 10 am - noon Vajrasattva Empowerment, 2 - 4 pm LoJong Teachings
Sunday, Sept. 23rd - 10:30 Dharma talk, 2 - 4 pm LoJong Teachings
Non-Residential Retreat Fees: (all teachings and empowerment) - $120 in advance/ $140 at door. No meals are included
Residential Retreat Fees: (all teachings and empowerment) - $120 in advance/ $140 at door plu $25 per night stay at the Rime Center. Includes two meals per day.
Rime Buddhist Center
The Rime Buddhist Center is a non-sectarian Tibetan Buddhist center located in downtown Kansas City, Missouri. We are located in a beautiful 7,000 sq. foot, 100-year-old church, that can accommodate up to 250 people. On the second floor is a residential retreat center with twelve beds, divided into a men's and a women's dorm. The Rime Center also has a gift shop and bookstore that carries a variety of Dharma books and practice items.
Website: http://www.rimecenter.org/