Mystery donor leaves $1 million to Naropa
By Jean Torkelson, Rocky Mountain News, February 28, 2008
Posthumous gift largest in Boulder school's history
Boulder, CO (USA) -- An anonymous donor has left Naropa University $1 million in her will, the Boulder-based institution announced Wednesday.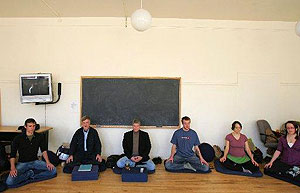 << Chris Schneider / The Rocky
Frank Berliner, third from left, leads students in meditation in a contemplative psychology class at Naropa University in Boulder.
It's the largest such posthumous gift in the school's 34-year history, and comes with some intriguing question marks.
"Part of the mystery and the power of this gift is we don't know what her precise connection was to the university," said Christopher Dwyer, vice president for institutional advancement.
The bequest will be distributed in segments to Naropa through 2011. The first amount has gone into the endowment fund. The president and its board of trustees will determine future placements. No strings are attached to the money.
Naropa was founded in 1974 by a Tibetan lama, Chogyam Trungpa Rinpoche, a charismatic spiritual leader who also cut a rakish and unforgettable presence in Boulder. The reputation of Rinpoche was of a hard-partying man and a genius who was the first to adapt Buddhism to American tastes.
Rinpoche attracted a rebel generation to Naropa, including Howl poet Allen Ginsberg, who founded the Jack Kerouac School of Disembodied Poetics at Naropa, named after the famous "beat" writer.
At Naropa, a more measured Buddhist influence spread, too, with visits from ordinary teaching lamas to the Dalai Lama.
Rinpoche's son, Sakyong, continued to make frequent trips to Boulder after his father's death in 1987. During one appearance in 2003, the 600 people who came to see him could have comprised a Naropa reunion.
Did the anonymous donor, who was in her 60s, have similar Naropa memories? It wouldn't be the first time the school exerted such a lasting pull:
"The distinctive style of education here has a personal effect on people which is really beyond words and academic programs," Dwyer said.
In recent years, Naropa has broadened its Buddhist base to embrace diversity. In 2003, it hired its first non-Buddhist president, Tom Coburn, a Princeton and Harvard graduate and noted scholar of Hindu traditions.
"What's happened here," he said, "is one of those classic cases in history, particularly in religious history, where you have a charismatic founder and he or she dies and the question arises - how do we continue the charisma?"
Naropa became accredited in 1986. It's described as a "nonsectarian liberal arts institution whose mission is contemplative education." The curriculum ranges from the conventional, such as early childhood education and religious studies, to sacred ecology and wilderness therapy.
The idea, Coburn said, is to cultivate the "emotional, psychological and inner life" in understanding the external world.
The anonymous donor gave once before, $2,000, in 2004. But when Naropa officials did a follow-up after the donation, the woman declined further contact.
Naropa University
2130 Arapahoe Ave., Boulder
452 undergraduate students
24 is the average age
60 percent female
40 percent male
$19,426 undergraduate tuition
645 graduate students
The past
Some notables who visited, taught at or attended: The Dalai Lama Allen Ginsberg Lawrence Ferlinghetti Ken Kesey Timothy Leary Abbie Hoffman Phillip Glass Norman Mailer