Budding Buddhism
By MARK BARNA, THE GAZETTE, May 3, 2008
Many in Tibetan branch call Colorado their home
Colorado Springs, CO (USA) -- Colorado Springs is far from being the epicenter of Tibetan Buddhism in the U.S. Only a couple hundred people in the area practice the faith, and there are no red-robed monks walking the streets reciting Tibetan mantras.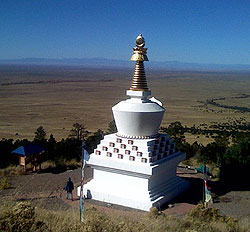 << The Tashi Gomang Stupa in Crestone, Colorado
But there are signs that Tibetan Buddhism's presence is growing:
- The number of public meditation offerings here has more than doubled in two years.
- In September, Diamond Way Buddhism, which has 574 centers worldwide, arrived in Colorado Springs, offering weekly meditation programs at two locations.
The group is looking for land outside the city to build a sprawling center that would offer private retreats and meditation courses. The organization has raised 80 percent of the $825,000 needed to buy the land and begin construction, said Jesper Jorgensen, a spiritual teacher at the local center. It could open as soon as summer 2009.
- In October, the Air Force Academy unveiled a 300-square-foot Buddha Hall in the basement of its iconic Christian chapel to accommodate Buddhist cadets and the public.
- A Denver-based Buddhist center has held weekly talks and meditation classes at a Springs church since 2006 and has established a center at Fort Carson.
Along with Zen and Theravada, Tibetan Buddhism is one of the major strands within the Buddhist tradition. Within Tibetan Buddhism are three main schools - Sakya, Kagyu and Gelug - that use meditative practices as a means to control the mind and body.
Tibetan Buddhism is growing because it offers practical solutions to life's difficulties, Jorgensen said.
"With change and uncertainty becoming more prevalent in today's world, I think more people are looking for methods which bring unconditional happiness and inner stability," Jorgensen said.
The growth of the faith in the Pikes Peak area is not surprising. Of the estimated 1 million Tibetan Buddhists in the U.S., about 30,000 are in Colorado, putting the state behind only New York and California in the number of practitioners, said David Gardiner, professor of Buddhism at Colorado College.
Colorado has dozens of Buddhist centers and several retreats, most notably in Crestone, that are visited by people from around the world. And Boulder is home to Naropa University, a liberal arts college organized on Buddhist principles and founded by the late Tibetan Buddhist monk Chogyam Trungpa Rinpoche.
For 11 years, the Thubten Shedrup Ling center, part of the Gelug order, has offered weekly Tibetan meditation classes in Colorado Springs.
"Colorado is a wonderful place for Tibetan Buddhism," said Lama Ole Nydahl, 67, who is part of the Kagyu school and founder of Diamond Way. He will give a talk in Colorado Springs in June.
"The mountains and altitude remind of Tibet," Nydahl said.
Tibetan Buddhism might have remained in Tibet had it not been for the 1950 invasion by the Communist Chinese. Monks left Tibet en masse - the Dalai Lama departed in 1959 - and the exodus had the unintended effect of spreading the faith around the world.
By the early 1970s, Tibetan Buddhism had a foothold in America as monks taught and opened monasteries in the states.
It was swiftly accepted by America's counterculture, as much because of its exoticism as its teachings, some scholars say. Westerners were intrigued by a culture steeped in faith and nearly devoid of modern conveniences. Yet Tibetan Buddhism in the West is different from that practiced for centuries in the remote country. In the West, few teachers emphasize how traditional Tibetan practitioners perform exorcisms, deny the existence of a creator God, worship deities and believe that Tibetan paintings of deities contain spirits.
Instead, Western Tibetan teachers focus on mental practices to calm the mind (visualization, reciting mantras, meditating on Tibetan art) and the Buddhist tenet of universal compassion, found also in the Zen and Theravada traditions.
"The West is not so interested in red robes and rituals, but rather in the teachings of the mind," said Nydahl, who wears Western attire when teaching.
In general, Buddhism is presented in the West not as a religion but as a way of life. "A religion means coming back to a paradise lost," Nydahl said. "Buddhism says we never lost it. It was always there. And now we are finding it."
Even so, those interested in traditional Tibetan Buddhism will find it. Practitioners at the Colorado Springs branch of Denver's Avalokiteshvara Buddhist Center, for instance, worship the Tibetan protector spirit Shugden, and teachers dress in traditional red robes.
"There are a lot of different levels we teach," said Kelsang Jangshub, a monk at the Buddhist Center. "Some come to our classes with basic interest. Others come wanting to devote their life."
John Lentz of Colorado Springs grew up in the Unitarian Church but started practicing Tibetan Buddhism four years ago. A breakup with his girlfriend led him to practice teachings about compassion and nonattachment to emotions such as jealousy and anger.
"I've been better able to connect with life," Lentz, 27, said. "My world is larger because of my practice."
TIBETAN BUDDHISM IN COLORADO SPRINGS
Diamond Way Buddhism
Free meditation classes, 8 p.m. Mondays at 1176 Whistler Hollow Drive, and 7:30 p.m. Thursdays at Yoga Imaging Studio, 324 N. Nevada Ave. More info: 302-3062 or www. diamond way.org/cosprings
Air Force Academy Dharma Hall
Free meditation classes, 6:30 p.m. Wednesdays at Buddha Chapel in basement of Cadet Chapel. Services follow the Mahayana tradition, which accommodates Zen and Tibetan Buddhist practitioners. Open to the public.
Thubten Shedrup Ling
Free meditation classes 7 p.m. Wednesdays in Shove Chapel at Colorado College, 1010 N. Nevada Ave. www.tsling.com.