Many are the paths to His Holiness
by Charles Agar, The Aspen Times, July 23, 2008
Dalai Lama's talk in Aspen is sold out, but TV, radio and web to carry it live
Aspen, CO (USA) -- Tickets to the symposium and to the Dalai Lama's talk on Saturday are sold out, but a handful of events gives locals an opportunity to touch a bit of Tibet.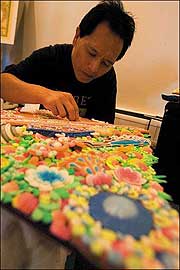 << Sonam Dhargye, of Tibet, makes a five-senses butter sculpture offering at the Aspen Institute on Wednesday afternoon. A bear nibbled the Buddhist sculpture, which Dhargye has been working on for 12 hours a day since Saturday, earlier this week.
Jordan Curet/The Aspen Times
His Holiness Tenzin Gyatso, the 14th Dalai Lama of Tibet, will speak at the Benedict Music Tent on Saturday at 11 a.m. as part of a three-day summer symposium celebrating Tibetan and Himalayan culture.
But you don't need a ticket to hear him speak.
On Wednesday, GrassRoots TV in Aspen announced it would broadcast the Dalai Lama's talk live, as will Aspen Public Radio. The Aspen Institute also will run a simulcast of the talk on its website.
"We really are pleased to be able to extend this to the community," said Jennifer Myers, the Aspen Institute's deputy director of communications and public affairs.
"Even though the symposium passes are sold out, there are still stuff people can do every day," Myers said.
Tibetan monks from the Drepung Loseling Monastery are busy making a sand mandala and a traditional Tibetan butter sculpture in an area of the Aspen Institute that is open to the public.
"The sand mandala itself is a 2,500-year-old traditional art that came from India and we preserve in Tibet," saidDrepung Loseling monk Geshe Yeshe.
The mandala only stays up for a few days to remind people of the impermanence of all things, Geshe Yeshe said. The sand will be blessed by the Dalai Lama and then sent down the Roaring Fork River, which takes the blessings and prayers and "keeps circulating" them to the sea and back.
The dissolution ceremony, scheduled for Saturday at 3 p.m. after the Dalai Lama's talk, is open to the public, and tickets are not necessary.
The butter sculpture, usually done at a Tibetan new year celebration, is being held to honor the Dalai Lama.
The monks will do a smoke-offering ceremony at Anderson Park at 6 a.m. on Saturday; the public is welcome.
And tickets remain available for a few events at the Hotel Jerome.
On Thursday, mountaineer, author and filmmaker David Breashears will host an evening at the Jerome Ballroom to discuss the importance of glaciers, mountains and permafrost in Tibet.