Spiritual Home
By Melanie M. Sidwell, The Daily Times-Call, Feb 13, 2005
Longmont Buddhist Temple sees ?new wave? of white devotees
LONGMONT, Colorado (USA) -- In the Longmont Buddhist Temple, the sensei, or teacher, begins the Sunday service with meditation.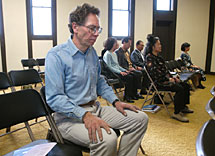 The sensei asks the congregation, a dozen participants strong this particular Sunday, to concentrate on the four planes of alignment: the front, the back and two sides of their bodies.
As followers settle onto their metal folding chairs, the room grows quiet, interrupted only by the sound of occasional traffic on U.S. Highway 287.
The sensei explains the importance of posture: By leaning back, a person is resting on the past. By leaning forward, a person is anticipating the future.
Wisdom and compassion, the tenets of Jodo Shinshu Buddhism, are found only by standing straight with dignity in the here and now, the sensei said.
But the Longmont Buddhist Temple is thinking about its future, and its congregation is doing something about it.
?I?m the new wave, if you will, of non-Japanese people being a part of the Jodo Shinshu tradition,? said Carol ?Gansho? O?Dowd, the temple?s assistant minister.
With a surname like O?Dowd, it?s doubtful the assistant minister has ethnic ties to Buddhism. But O?Dowd, a former city manager of three Colorado cities and a government consultant, has practiced Buddhism for 16 years. She called her volunteer ministry of two years a kind of ?second career path.?
?Buddhism is my spiritual home,? she said.
This wave of Caucasians into Buddhist temples ? called ?Boomer (as in baby boomer) Buddhism,? ?Western Buddhism? or ?American Buddhism? ? demonstrates an expanding racial branch of what was once traditionally a Japanese way of life.
?This is a welcoming place that comes out of the Japanese tradition, not Japan,? O?Dowd said. ?The teachings we offer are for anyone interested.?
The remaining faithful of the Longmont temple, descendants of Japanese farming families who founded the temple nearly 80 years ago, recognized that its future rests not with the third- and fourth-generation Japanese Americans who have moved away, married into other faiths or prefer the Denver temple for its Sunday school for their young children, but with the growing number of Caucasian devotees.
Karen Wood, a third-generation Japanese American and member of the Longmont temple, said temples in Brighton and Fort Lupton face a similar void in their attendance numbers.
Also, the organization Buddhist Churches of America now faces a decrease in the number of ministers, O?Dowd said. As a volunteer assistant minister, O?Dowd joins one fellow volunteer and two full-time ministers who cover the Tri-State Buddhist Temple, based out of Denver.
So, in a Darwinian move, the Longmont temple has shed its unassuming presence ? one that grew out of a post-World War II desire to assimilate ? for a more public one, she said.
?We had to say ?OK, if we keep going the way we are, we are not going to survive,?? Wood said.
The Longmont temple originated in 1925 with about 20 Japanese farming families in Longmont and Lafayette who met at each other?s homes for services. In 1929, the congregation built a wood-frame temple three miles north of Lafayette.
In 1947, the Denver Buddhist Church built a new temple, forming the Tri-State Buddhist Temple. The Longmont temple became one of nine branch temples in Colorado, Wyoming and Nebraska.
The Kanemoto families exchanged land for the old Burlington school, built in 1906. The school, where the temple is now, was remodeled in 1968.
But over the years, 75 percent of the descendants of temple members have moved away or married into other faiths, temple officials say.
?We cannot be an ethnic church,? said Jim Kanemoto, 88, a second-generation Japanese American. ?We are pushing for this, opening our doors to the public. If Buddhism works for them and fits their needs, they are welcome to come.?
Just as Shinran Shonin, the founder of this sect of Buddhism ? there are several ? made this elitist philosophy available to the lay people of Japan in the 13th century, the Longmont Buddhist Temple has announced itself to outsiders as a welcoming entity through newspaper briefs and a sign on the building in recent years.
Many of the Caucasian practitioners said they had driven past the white building on the hill for years without knowing that it was a Buddhist temple.
Gayle McArthur of Hygiene, an interior designer, said she was one of the few Caucasians in the room when she started coming to the temple last year.
McArthur, who has been mediating for three decades, said she had tried various Buddhist sects, but ?they were all so foreign to me.?
?Here it feels westernized, almost like a church,? she said.
Also, devotees said they were attracted to Buddhism because it did not advocate conversion like some religions.
Much like a Mass, the Buddhist service involves burning of incense, a sermon, songs, an altar and statues.
?Just as you go into a church and see a cross, you?re not looking at Jesus. It?s symbolic,? O?Dowd said.
The readings and songs are in both English and Japanese, a trend that Wood said has opened the temple to the non-Japanese. The temple started having English versions of services as the older generations died out, she said.
For one attendee, Buddhism is a complement, not competition, to his Christianity.
Frank Ciskovsky, a service writer for an auto body shop, attends both the Longmont temple and a Christian church in Boulder. Ciskovsky, who has attended the temple for the past five years, said he has been asked many times ?how I co-exist with the two? faiths.
?My friends joke that I?m a Budeo-Christian,? he said. ?Buddhism is more of a philosophy of life than a religion. It?s more of what I?m in tune with. It?s easy to have them both together.?
O?Dowd said this American form of Buddhism will continue to grow because of its practicality and accessibility.
?This sharing of the Buddhist teachings is making it available to the average American in a way they can use in their everyday life,? she said.
Melanie M. Sidwell can be reached at 303-684-5274, or by e-mail at msidwell@times-call.com.