Quest for nirvana
by Ann Butler, The Durango Herald, Oct 31, 2010
Buddhist retreat near Pagosa offers place to be apart
Pagosa Springs, CO (USA) -- The sounds of a hawk's wings beating against the air and the breeze whispering in the trees are all that break the silence on the hill where a Buddhist temple sits south of Pagosa Springs.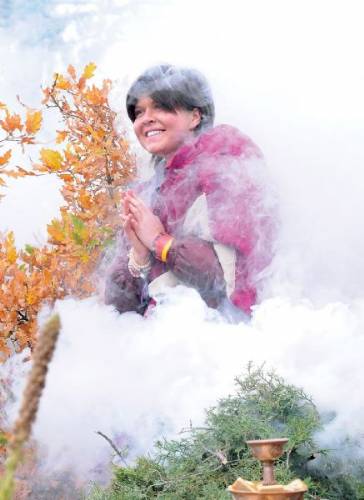 << Photo by STEVE LEWIS/Herald
Volunteer Bridget Bailey participates in the smoke offering ceremony Oct. 21 at Tara Mandala, south of Pagosa Springs.
Half way around the world from where the religion's teachings originated more than 2,500 years ago, Tara Mandala Retreat Center offers a respite from daily life and the opportunity for deep meditation and study for lay practitioners of all faiths as well as for Buddhist monks and nuns.
"It's kind of an open secret," Tami Graham, who periodically visits Tara Mandala, said. "A lot of people locally have heard of it but never been there, and yet people from all over the world go there."
The name comes from "Tara," the female Buddha of compassion, who has 21 forms. "Mandala" is the cosmological structure of Tibetan teachings, a "kind of architecture for the psyche," as Tara Mandala's website describes it.
The center, which covers 700 acres of pristine valleys and hills in the southern San Juan Mountains, was founded in 1994 by Lama Tsultrim Allione, a former Tibetan Buddhist nun who has practiced Buddhism for more than 45 years.
"She and her husband (David Petit) were traveling to California to look at some land for a retreat when they stopped in Pagosa and someone told them about this property," said Debra Travis, one of the teachers at Tara Mandala and the new program manager. "There weren't even any roads out here then. They hiked to the top of the peak and realized that the land itself is a mandala."
Recovering the sacred feminine
From May through September, the center is busy with retreat participants and students, some staying in wooden yurts or the residence hall while many more camp around the property. The kitchen often feeds 125 people a day during the summer. Retreats vary in length.
"I did a three-month retreat and would hike down a hill to leave my shopping list in a cooler," Travis said. "I'd come back and find the food with two 20-pound bags of ice to keep it cool."
While some shut themselves away in solitude for prayer and study, others come for the classes, practices and rituals.
Allione has dedicated her teaching and writing to recovering the sacred feminine.
"In the Buddhist religious texts, there are many references to the sacred femininein the form of female teachers, deities and symbolismbut the real life of female practitioners was far from ideal. Nuns were not allowed to receive as many teachings as monks."
Allione, who serves as the spiritual director and teacher at the center, has written several books, including her first book, Women of Wisdom, in 1984, and her most recent, Feeding Your Demons: Ancient Wisdom for Resolving Inner Conflict. Last year, she was named International Outstanding Buddhist Woman of 2009.
"The award was very strengthening, very empowering, an international-award that says this person is legit," she said at the time. "It's the most meaningful because I really had to stand up for this. It wasn't easy in a patriarchal tradition."
Allione has inspired a number of devout Buddhists to study with her.
Travis began studying Buddhism in 1982 and went to India for a year in 2005.
"As soon as I met Lama Tsultrim, I knew she would be my teacher," she said.
Travis said Allione told her what she'd need to do, and she did everything.
"There is a path in Buddhism," she said. "I feel she has been a profound guide on that path, with much guidance, much wisdom. She has deepened my practice in many ways."
Death touches Tara Mandala
"Constanzo Allione, Lama Tsultrim's son, was studying in Tibet with Adzom Rinpoche this summer," Travis said, "and he told (Constanzo) 'you're going to be needed at home.' Then word came that David (Petit) had died, and he rushed home to be here."
Petit's sudden death changed the year for everyone at Tara Mandala. A co-founder of the center who was in charge of operations, Petit, in his mid-50s, also considered an advanced practitioner of Buddhism.
"David's diligence with this high level of practice allowed him to reach liberation immediately after his death," a memorial booklet about him reads.
After her husband's death, Allione decided to travel to meet with her teachers in India, Tibet and Nepal to learn to deal with her loss.
"All of her dharma friends, many who have known Lama Tsultrim since she was quite young, asked 'What can we do?'" Travis said.
Allione, who needed a respite from teaching, asked for help from other teachers. One of the most prominent Buddhist teachers and writers in America, Jack Kornfield, founder of Spirit Rock Meditation Center in California, immediately volunteered to lead a retreat over the New Year. Another friend, Grammyaward winner Peter Rowan, is giving a fundraiser concert tonight.
Building for the future
Since 2003, Tara Mandala has raised more than $6 million in a capital campaign. The funds helped construct the Community Building, Prajña residence hall, a large grow dome where the center raises many of the vegetables consumed, four resident cabins and the nearly completed Tara Temple. Two Bhutanese master temple carvers spent a year and a half on the temple, and a Bhutanese master temple painter still working there after three years.
The money has come from major donors and those who only had a little to give.
"Even as a grad student when I had no money, I would send what I could, sometimes just $10 or $15I believed in what Tsultrim was trying to create."
The result is a compound rich in tones of ochre and red, with a full-scale temple that would be at home on any Himalayan mountainside.
"This was my fourth summer at Tara Mandala," said Anna Raithel, who's in charge of the temple. "The temple's gone from a patch of dirt to fully functioning. It will be 10 more years before it's done and consecrated."
Raithel often gives tours of the temple to visitors.
"This is a supercharging place," she said. "People walk in and go 'wow.' Sometimes they walk in and just start crying."