Buddhist temple proposal remains alive
by Alexia Lang, The Kansas City Star, Feb 24, 2011
Kansas City, KS (USA) -- A Thursday night vote by the Johnson County Commission kept alive a proposal by a local Buddhist association to move its temple to a rural location west of Olathe.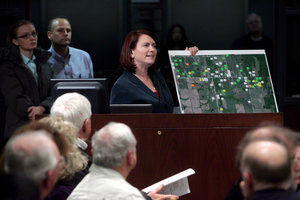 << Olathe resident Susan Brown held up a map of her neighborhood Thursday night as she spoke in opposition to rezoning during a county meeting.
Before an overflow crowd, the commission voted 6-1 to return the proposal to a county zoning board, which earlier had rejected the request.
Residents crowded into two meeting rooms and lined the hallways. More than 25 spoke against allowing the Lao Buddhist Association to purchase and occupy 14 acres at 29500 W. 119th St., in an area where churches need a conditional-use permit.
Their concerns included increased traffic on a rural road and disruption of the country environment.
A handful of people spoke in favor of approving the permit.
The request, made on behalf of Urban Architecture Studio and landowners Alfred and Jeannie Rolf, came before the commissioners after the permit was denied Jan. 24 by the Northwest Consolidated Zoning Board.
Dean Palos, director of the Department of Planning, Development and Codes, said the latest request was a scaled-down version of the original. The plan no longer includes a future 9,600-square-foot worship space, a separate Buddha temple or a ceremonial gateway, among other elements.
Palos said staff recommended approval of the request.
Curtis Holland, the attorney representing the applicants, noted that neighbors of the association's current location at 721 W. Spruce St. have spoken favorably of the group.