Buddhist teachers to give free meditation lessons
by Johanna Willett, Arizona Daily Star, April 8, 2015
Tucson, AZ (USA) -- Dharma teacher Frank Jude Boccio, a born and bred New Yorker, didn't expect to like Tucson. The city changed his mind.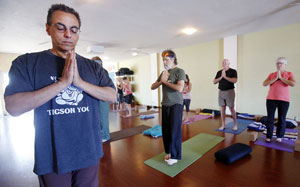 << Frank Jude Boccio, far left, teaches a mindfulness yoga class on Tuesday April 7, 2015 at Tucson Yoga, 150 South 4th Avenue. Boccio's group, Empty Mountain Sangha, is organizing a Change Your Mind Day in Amory Park this Saturday. Change Your Mind Day was first started in Central Park in the 1990s as a way to introduce people to Buddhist teachings and meditation.
The punk-rock-writer-turned-Zen Buddhist does miss a few things about New York City, particularly the unity among Buddhist traditions there. About six years ago, he started the secular Zen Buddhist community, Empty Mountain Sangha, in his Tucson living room. After sharing space with Tucson Yoga, 150 S. Fourth Ave., for about five years, the group moved in March to its own space at 148 S. Fourth Ave.
Boccio, 58, moved to Tucson in 2007 after a stint in Oregon and says he finds the various Buddhist communities here are rather "insular."
He hopes to change that.
On Saturday, Empty Mountain Sangha will sponsor a Change Your Mind Day, a day of free meditation teachings and practices at Armory Park. Teachers from five meditation traditions will share the basics of their practices, punctuated by flute music and qigong — a combination of breathing, meditation and fluid movements.
Boccio brought the idea with him from New York City, where Change Your Mind Day was first practiced in Central Park in the early 1990s. Started by the Tricycle Foundation, a nonprofit that publishes a Buddhist journal, Change Your Mind Day has spread across the country.
Boccio hopes the day's first appearance in Tucson will promote collaboration among Buddhist traditions. He loved that variety in New York.
"I went to them all," Boccio says of the meditation days in the park. "It was basically just a day to hang out in Central Park and listen to teachers from various traditions."
Boccio's experience with yoga began as a result of his dissolving first marriage.
"I went to a yoga center and was so blissed out after my first class and savasana," he says. "What I noticed after a few weeks is that I felt great while doing yoga and when I left the studio, but by the time I got off the subway to go home, I was already stressed out."
He found Buddhism to be a natural next step in his pursuit of mindfulness. He was ordained as a Zen Buddhist teacher after seven years of seminary and founded a sangha in Brooklyn.
These days, he mostly uses his pen to write on Buddhism, yoga and mindfulness for journals and blogs. His book, "Mindfulness Yoga: The Awakened Union of Breath, Body, and Mind," was published in 2004.
Now living in Tucson with his wife and daughter, Boccio says the practice has brought more balance to his life.
He teaches meditation classes at his own sangha and at Yoga Oasis, 2631 N. Campbell Ave. He also teaches yoga at Tucson Yoga.
He adds, "With mindfulness, we can just really stop and allow ourselves to feel the discomfort instead of reacting, so we can find a more creative way to respond."
If you go
What: Change Your Mind Day brings together teachers from Empty Mountain Sangha, Dharma Treasure Buddhist Sangha, The Arizona Meditation Research Interest Group, Upaya Sangha of Tucson and Insight Meditation Tucson.
When: 10 a.m. to 3 p.m. Saturday, April 11
Where: Armory Park
Cost: Free
More info: http://emptymountainsangha.org