Buddhist monks to teach inner peace
By Carolina Amengual, The Daily News, November 6, 2004
DICKINSON, Texas (USA) -- For Tibetan monk Lobsang Dhonden, 26, whose first name means ?good mind,? building a beautiful yet short-lived sand mandala helps purify his spirit. "I submerge into it and it gives me calmness,? he said, as fellow monks accompanying him on the ?Everlasting Peace Tour? worked on the intricate geometric composition.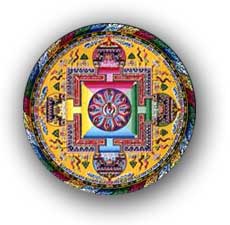 Dhonden and six other monks from south India?s Gaden Shartse Monastic University arrived at the Linh Son Temple this week to promote peace and spread Buddhist teachings through their artwork.
Dickinson is one of the stops in the 10-month trip that has taken the troupe to Spain, Greenland, England and several cities in the United States, including Los Angeles, San Francisco and New York.
Made up of circles, straight lines and a lotus flower in the center, the mandala is an offering to the Buddhas.
As such, once completed and blessed, it will be wiped away to signal Buddhists? belief in the difference between appreciation and attachment.
?After five days of hard work, they?ll erase it in five seconds, but that doesn?t matter,? said Vietnam native Bikkhu Thich Linh Nhu, better known among local Buddhist practitioners as The Rev. Larry. ?You must understand this is temporary. It only serves a purpose while you?re doing it. If you understand that material things may give you pleasure but not lasting happiness, you?ll never have sorrow.?
Hunched over a flat platform, the barefoot, robe-clad monks spent five eight-hour days scraping metal rods against sand-filled metal funnels called ?chak-purs.?
The friction causes the funnels to vibrate, allowing the monks to pour exact amounts of dyed, crushed stone on a chalk outline.
Although it?s a team effort, they rarely talk. They work from the inside out, their eyes fixed on the mandala as in a trance that?s only disrupted to load the funnels with more sand.
Each mandala represents the universe and depicts the home of a different Buddha. This specific one, a Chenregsig mandala, was made in honor of the Buddha of compassion.
While creating the mandala, monks meditate. They believe the design is the purest of all environments and working on it is a privilege they must earn. Rather than a hobby, it?s a path to enlightenment.
?When you?re doing the mandala you should think you?re creating your own pure environment,? Dhonden said. ?I visualize going into the palace. It?s a nice feeling.?
With nothing to hold in place millions of sand grains, a simple sneeze or a clumsy movement could bring days of skilled labor, discipline and concentration to an abrupt end.
But even knowing so, the monks want people to get close. They?ve only got one simple request: ?Please don?t touch,? reads a sheet of paper taped to the platform.
?Seeing the mandala will create the karmic potential in your mind that will stay with you unless there?s anger or other bad things,? Dhonden said. ?We want people to know what is their real potential of their minds.?
After invoking the Buddha in their chants, the monks will dismantle the mandala Sunday at a ?puja? ceremony. They?ll distribute the sand among the public and deposit the rest in an area bayou for the well-being of those who didn?t make it to the temple.
?People will take home this highly energized thing that could help them spiritually,? Dhonden said. ?The everlasting peace will be possible if we generate unbiased compassion in our minds.?
On the Net:
? Gaden Shartse Monastic University: www.gadenshartse.org.
? Linh Son Temple: e-mail Thichlinhnhu(at)juno.com.
---
What: Sand mandala viewing.
When: 9 a.m. to 5 p.m. today and 9 a.m. to 3:15 p.m. Sunday.
Where: Linh Son Buddhist Temple, 1334 FM 646, Dickinson.
---
Schedule
Schedule of activities organized by the Tibetan monks:
10:30 a.m. today: How to eradicate anger.
10:30 a.m. Sunday: ceremony requesting blessings from Buddha.
1:15 p.m. Sunday: How to Develop Compassion.
3:15 p.m. Sunday: Monks will erase their work and distribute the sand.
Cost: Free.
Shoes must be left outside the door of the temple.
+++
?Mandala? is a Sanskrit word that means ?center of the circle with exterior walls and surrounding environment.?
Buddhists consider each multicolored artwork a mystic circle that encapsulates several planes of reality, including the universe, the home of a specific deity and the body, speech and mind of the Buddha.