Monks protesting nuclear weaponry
by Carol Sowers, The Arizona Republic, July 30, 2005
Buddhists visit Valley on 1,600-mile trek to Trinity Site
Paradise Valley, Arizona (USA) -- Just after sunrise Friday, Kazuo Miyazaki, a Zen Buddhist monk from Japan, sat on a van's tailgate in Paradise Valley, slathering his face with sunscreen, preparing for the next leg of a 1,600-mile trek to call attention to the continuing threat of nuclear war.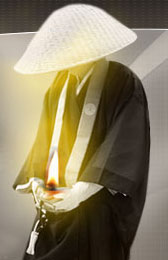 Miyazaki is one of three monks who began the journey in San Francisco on July 16. They are en route to Trinity Site in central New Mexico, the once top-secret birthplace of the atomic bomb that destroyed Hiroshima, Japan, on Aug. 6, 1945.
Three days later, a bomb detonated over Nagasaki,and the Japanese surrendered in World War II less than a month later. The three monks in their flowing robes arrived in Phoenix on Thursday and spent the night at the Franciscan Renewal Center in Paradise Valley.
Nearly 20 people gathered around sunrise to greet and walk with the monks as they "leapfrogged" by foot and car to Globe, 60 miles away in the mountains of Gila County. The men will then continue through eastern Arizona and into New Mexico.
Jackie Orcholl, 29, and her 31-year-old husband, Chris, of Phoenix, arrived at the Renewal Center at 5 a.m., 45 minutes before the monks began their walk.
"We are here because we believe in everything the monks are doing to promote nuclear disarmament," Jackie said.
Monk Keigaku Muchu, 37, who lives in San Francisco, carries the "Atomic Lantern," lit from the embers of the Hiroshima bomb.
When they arrive at Trinity on Aug. 9, the 60th anniversary of the Nagasaki bombing, the monks will extinguish the flame, a symbolic ceremony for the hope of disarmament worldwide.
Muchu is not convinced their trek will lead to the dismantling of nuclear weapons. "But maybe people can see this and ask themselves what they can do," he said.
The journey is sponsored by the private Global Nuclear Disarmament Fund. The group's co-executive director, Matt Taylor, is producing a movie of the walk, which he calls the "Buddhist version of The Passion of the Christ."
Taylor's crew rolled film as the monks and about 15 others strolled single file along Lincoln Drive.
Inran Hamid,13, of Scottsdale, was among the walkers. His father, Hafiz, said it was Inran who insisted that the family walk with the monks.
"I feel that this is our future that we have to look at," Inran said. "And no matter what we have to do for nuclear disarmament can't be a bad thing."