Buddhist monk is first Westerner ordained in Korean order
By Eileen E. Flynn, AMERICAN-STATESMAN, February 26, 2006
Hospital chaplain gains understanding of suffering through Buddhist ordination
Austin, Texas (USA) -- David Zuniga had no sooner drifted off to sleep when the master monk began prodding him again. "Dave," the monk whispered, "what is your philosophy on emptiness?"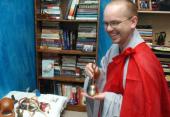 << David Zuniga. Photo by Tania Savayan - AMERICAN-STATESMAN
David Zuniga learned about humility as he worked to become the first Western monk of the Taego order of Korean Zen. He has an altar in his Austin house, but he plans to expand and share his faith.
Dutifully, Zuniga sat up and did his best to articulate a response in broken Korean.
Zuniga, a normally upbeat interfaith chaplain at an Austin hospital, was drained from the relentless demands of ordination training to become a Buddhist monk. If he made it through the 25 days of preparation, he would be the first Westerner ordained in the Taego order of Son, or Korean Zen, Buddhism.
The monks "were kind of looking at me as, 'OK, let's see how the Westerner does,' " Zuniga says, recounting his September in Southwest Korea where he was ordained.
It was hard to fathom that at 35, as an ultramarathon runner with a black belt in tae kwon do and years of meditation practice, Zuniga would not withstand the ascetic lifestyle and physical challenges of the Sonamsa Temple of Chogye Mountain.
Although he did not break under the weight, he struggled, and in the process learned about humility.
Zuniga, ordained Dae-il Sunim, returned to Austin, where he works primarily with cancer patients, with a depth of understanding for those who suffer and an inspiration to share his philosophy and practice with others.
"There's a saying in Buddhism," Zuniga says. "Suffering is the teacher."
Over the course of the training, Zuniga would endure illness, a serious knee injury, aching sadness and hopelessness. To overcome attachments, he was forbidden to carry any personal effects — even his wedding ring — or to call Sunni, his newly pregnant wife, from the temple pay phone he passed every day.
To overcome ego and desires, he had to perform thousands of prostrations, sinking to the floor and rising again without using his hands. His life was consumed by chanting, fasting, study and temple chores. Ordination candidates always walked in single file, always with their right hands folded over their left in a sign of humility. Meals consisted of rice, vegetables and water. Zuniga slept on the floor with a single blanket as his only bedding.
One day, after complaining to a friend, Zuniga faced a simple truth that helped him understand the purpose of his ordeal.
"This is the Buddhist way," his friend told him. "You endure things."
It was an important lesson for Zuniga, who works as chaplain for Seton Cancer Care Team and has seen people meet the end they feared the most: dying in a hospital, in pain and alone.
He doesn't try to explain away the seeming injustice of the patient's fate or promise a better life in the hereafter. He first offers silence. If patients ask, Zuniga, who grew up Catholic in Virginia, will pray with them. Sometimes, they prefer joking and talking about anything except cancer and death.
His time in Korea deepened his capacity to empathize with patients, he says. As did a period of sorrow when he returned from the temple and discovered that Sunni had miscarried.
"You don't seek to alter the experience one way or another," he says. "You just sit with it, and you learn from it. In a sense, it's good to have these experiences so you can learn to help other people."
Zuniga also looks for ways to apply Zen to the burdensome things in life. Recently he began to see the constant beeping and buzzing pagers in the hospital as a modern day Zen bell used during meditation and chants. His pager could be a call to mindfulness.
Zuniga learned about the Taego order while pursuing his master's degree in religious studies at Harvard University. There he befriended a Korean monk named Ilmee Sunim who urged Zuniga to pursue ordination and helped arrange his first trip to Korea in 2001.
"I thought he would be a great contribution to the Taego order, especially at a time when the order is interested in outreaching abroad," Ilmee said.
The order's allowance for married monks was a key factor in Zuniga's decision, but he had held an interest in Korean Buddhism since he was a child and felt drawn to Korean Zen's strains of Confucianism and the grueling intensity of the Taego order's practice.
"The hardness makes it good," Zuniga says. "Often in life we have aversion to things which we designate as being hard. . . . But ascetic practice can be transforming."
In his South Austin home, he keeps a meditation space with an altar, pillow, Buddha statues and other accoutrements specific to Korean Zen, including a drum for chanting called a mok tok. He wears a mala, a string of wooden beads, and, on special occasions, red and gray monastic robes.
Zuniga doesn't want to limit his practice to the meditation area in his small study, though. Zuniga has started a Web site, a comprehensive introduction to Buddhism and the specifics of the Taego order. And his next goal is a meditation class for people of all religious backgrounds.
But even as a monk and a meditation teacher, Zuniga emphasizes, he is still a student.
"I'm not enlightened," he says, laughing. "I'm just Dave."
ON THE WEB: Find more information on http://sonbuddhism.org.
The Taego order
•The Taego Order is the oldest lineage of Son (the Korean word for Zen) Buddhism and is the second-largest Zen lineage in Korea. A Buddhist lineage is much like a denomination in Christianity.
•The order, which allows monks to be married, claims about 7,000 monks and nuns.
•Sonamsa, the main temple where Zuniga trained, was built in 529.