Giving thanks pays off big
By LAURA CLYMER, Arizona Daily Sun, Nov 25, 2004
Phoenix, Arizona (USA) -- Thanksgiving Day. A day of reflection, a time of gratitude, a prayer of thanks for the blessings of food and family gathered around the table. But what if you made a habit of giving thanks or expressing gratitude? What if each week you wrote down everything you were grateful for in a journal of thanks? What would happen? Would you feel better? Sleep better? Have more compassion?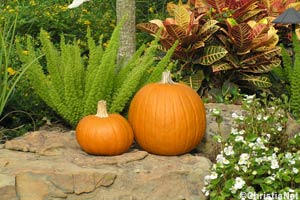 Some academic research suggests just that.
Folks feel better psychologically, have fewer physical symptoms and report higher levels of alertness, enthusiasm, determination and energy when they participated in "daily gratitude
intervention."
All of this, according to research by University of California-Davis psychology professor Robert A. Emmons, Ph.D., results in people who have a greater connectedness to others and suffer less stress.
"Highly grateful people have a worldview in which everything they have and life itself is a gift -- this leads to a different interpretation of experience -- not taking things for granted, not habituating to positive conditions, etc., which likely fosters greater happiness over time," Emmons wrote in an e-mail interview.
Emmons has carved out a niche studying and researching "thanksgiving." He's co-authored dozens of papers and co-investigated numerous studies on gratitude research. In one lecture synopsis, Emmons stated, "Gratitude is the 'forgotten factor' in happiness research."
So why have researchers taken gratitude for granted?
Perhaps because giving thanks is usually left to religions and philosophies.
"Virtually every religion has emphasized gratefulness or thanksgiving," Emmons wrote. "It is part of the ethical foundations of world religions, which state that people are morally obligated to give thanks to their God and to each other."
Emmons cited two examples of religious observation emphasizing gratitude.
In Judaism, the custom is to recite 100 blessings a day, according to Emmons.
"Thankfulness for everything is appropriate in Judaism because all things come from God in the Hebrew worldview, and therefore Jewish life is filled with this recognition. A prayer is said upon hearing good or bad news, and God is praised for everything. In this way a divine perspective on life is kept," Emmons explained.
Eastern and native religions cultivate gratitude as well.
A Buddhist meditation technique developed by Yoshimoto Ishina, a devout Buddhist from Japan, helps others look inside and become introspective. According to Emmons, the practice involves reflecting on three questions: What have I received from? What have I given to? What troubles and difficulty have I caused?
Emmons wrote, "This is effective as a form or examining one's conscience, a discipline that has a long history in contemplative religious traditions, both East and West."
Other research has found those people who attend religious services regularly and participate in prayer reading are more likely to be grateful. Grateful people are more likely to believe in the interconnectedness of life and commit to a responsibility to others.
Best of all, in today's high pressure, fast-paced world, a daily dose of thankfulness will reduce stress. And who doesn't need that?
Again, Emmons found that grateful people slept better, exercised more regularly (another proven stress reliever) and were more likely to have made progress toward important personal goals.
"Grateful people are less likely to experience envy, anger, resentment, regret and other unpleasant states that produce stress and thwart positive emotions," Emmons stated.
"So whether things are going well or poorly, gratitude in an effective approach to life."