Memorial to honor monks killed 15 years ago
by Erin Zlomek, The Arizona Republic, Aug 11, 2006
West Valley, AZ (USA) -- When six Thai Buddhist monks wearing orange-yellow robes were shot to death in a West Valley temple, no one thought the place they died would become a destination for Buddhists, Thai and humanitarians worldwide.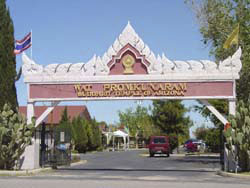 << Wat Promkunaram Temple in Waddell, scene of Arizona's worst massacre (1991)
Soon after the 1991 murders, the United Nations officially recognized Buddhism as a religion, a feat some attribute to the ripple generated by the murders.
Each year around this date, about 300 people journey to Wat Promkunaram Temple in Waddell to mediate, pray and remember those six monks and three other victims who died. This year, the memorial is Aug. 19. The massacre happened 15 years ago on Aug. 10.
Because so many people come to Arizona and remember the lives lost, the annual ceremony doubles as a conference for the national Council of Thai Buddhist Monks.
More than 100 monks, Christians, Thai-Americans, members of Thai student groups and advocates for peace, will gather. They'll discuss world politics, faith and family over fried chicken, pizza and Tom kha gai, a Thai coconut milk soup. In past years, the Thai ambassador has attended the memorial service as well as the Thai Consulate out of Los Angeles.
Members of the temple, located at 17212 W. Maryland Ave. welcome all people to the daylong event, regardless of race or religion.
In 1991 templegoers imported a memorial structure from Thailand to commemorate those lost. Those attending the ceremony will light candles and meditate, eventually placing the lit candles on the memorial's edge.
The memorial sits next to gardens of basil, chili peppers and lemongrass. Its first tier is a shallow, circle pool filled with floating lotus leaves and flowers.
According to Buddhist tradition, for each step Buddha took on earth, a lotus flower appeared. The circle represents Dhamma, which are the cyclical Buddhist teachings on how to live a happy life.
Shooting up from the pond is a triangle-shaped pillar. Three is a significant number in Buddhism: Buddhists bow three times and chant three times, one for Buddha or enlightened teacher, the second for Dhamma and the third for Sangha, or Buddhist followers. On each side of the pillar is a plaque for the three civilians killed in the massacre.
On top of the pillar is a hexagonal platform. Each side bears a plaque for each monk a killed. The memorial serves as an urn. Behind each plaque rests a small amount of the deceased monk's ashes, the remainder of which was scattered in ocean waters off the shore of Thailand, in accordance with Buddhist tradition.