Dalai Lama to visit Tucson
By Joyesha Chesnick, Arizona Daily Sun, Dec 12, 2004
Tucson, AZ (USA) -- The Dalai Lama will return to Tucson, 12 years after his last visit. His Holiness Tenzin Gyatso, the spiritual leader of the people of Tibet, is scheduled to be in town Sept. 16 for three days of Buddhist teachings focused on meditation, followed by a public talk Sept. 19.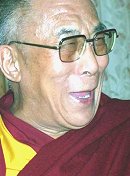 "We've been inviting him back since 1993," said Ken Bacher, executive director of Arizona Teachings Inc., which formed to coordinate the Dalai Lama's last visit. "But as he's gotten more popular, it's harder. More people want him to come."
Tickets - more than 2,000 of them - to Arizona Teachings' three-day event at the JW Marriott Starr Pass have already sold out, Bacher said. But those interested can put their names on a waiting list available on the organization's Web site, www.arizonateachings.org, or by calling 327-7187.
The suggested donation for the teachings is $285 or $230 per person, depending on the seat.
"This is a long time away," Bacher said. "In 1993, we had a waiting list of 300 people in March. And between March and September when he arrived, every one of those people was able to attend."
Staff at the Office of Tibet in New York City, the Dalai Lama's official representative in the United States, did not return calls Friday, but both Tucson events are listed on its Web site.
Tickets have yet to go on sale for the Sept. 19 public talk at the Tucson Convention Center, said Lisa Spencer, a board member of Arizona Friends of Tibet, which is sponsoring that event.
Friends of Tibet works to educate people about Tibet's culture and the plight of its people, now under Chinese rule.
Although plans are still in the works, Spencer said her group is looking at offering about 7,500 seats with prices ranging from $10 to $100. Information will be available on the organization's Web site, www.afot.org, as it becomes available.
Although the conference will focus on meditation, the topic for the public talk is still being discussed, Spencer said.
"It might be a takeoff of the teachings," she said.
His holiness, the 14th Dalai Lama, is considered the living embodiment of Chenrezig, one of the principal students of the Buddha, who himself achieved enlightenment.
He was born Lhamo Dhondrub on July 6, 1935, to a peasant family in northeastern Tibet and was identified through tests as the Dalai Lama when he was 2. He began his education by tutors at age 6 and completed the highest doctorate in Buddhist philosophy at age 25.
In 1950, the People's Republic of China invaded and occupied Tibet. A popular uprising in 1959 failed, and religious leaders fled. Since 1960, the Dalai Lama and the Tibetan Parliament have been in exile in Dharmsala, a small town in northern India, from which they lobby the world to help regain Tibetan autonomy.
The Dalai Lama won the Nobel Peace Prize in 1989 for his nonviolent efforts to free Tibet from Chinese rule.
For Bacher and his group, the visit is a religious experience.
"For all of us, the background idea for the benefit of people attending is for them to have the experience that monks have in monasteries without leaving their homes, without leaving their families and their jobs," he said. "Basically, that's not available here in the United States."
The Dalai Lama "is a very strong advocate of changing ourselves to be more peaceful so we can live in a more peaceful world," Bacher said. "So being around somebody that peaceful is an experience."