Linking together in remembrance
By Kenya Woodard, The Journal Gazette, Jan 2, 2004
Fort Wayne, TX (USA) -- Sriyan Perera?s family could have met the same fate as his friends back home. His sister was planning to vacation on Sri Lanka?s popular coastline the day a devastating tsunami hit.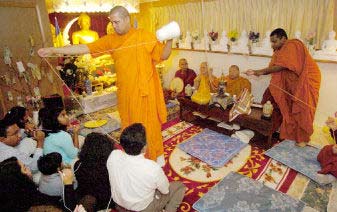 Perera and other local members of the Buddhist community solemnly greeted the new year Saturday during a memorial service at the Indiana Buddhist Institute in Fort Wayne for those lost to the deadly tsunamis that left parts of southeast Asia in ruins last week.
A monster earthquake in the Indian Ocean tipped off a series of tsunamis that have left at least 124,000 dead in Sri Lanka, India, Thailand and elsewhere. The latest official report obtained by the institute put the number of deaths in Sri Lanka at 24,673, with 4,589 reported missing and thousands injured.
Monks led the ceremony with chanting, the lighting of candles to represent growth, life and death and the passing of a white flag, a Sri Lankan tradition that represents mourning. The service was to memorialize those who died, said institute leader Thalangama Devananda.
?Many people don?t have homes,? he said. ?Our many friends and family have passed away. It?s really sad.?
Perera, of Fort Wayne, said his father and two sisters in Colombo, Sri Lanka, are well, but a friend who lives in Washington has not been so fortunate.
Officials have not recovered the bodies of the friend?s family, Perera said.
Devananda said the devastating tsunamis have deeply touched Fort Wayne?s small Sri Lankan community and some, like Weerekkody Govinda, traveled from Indianapolis to attend the service.
Govinda, whose loved ones are safe, said family members find it difficult to describe the destruction left in the tsunami?s wake.
?It?s a human catastrophe,? he said. ?They are not able to express the kind of damage. It has never happened in our lifetime.?
--------------------------------------------------------------------------------
How to help
People wanting to send money to victims of the tsunamis in southeast Asia can make checks payable to Indiana Buddhist Institute and send donations to 5712 Webster St., Fort Wayne, IN 46807. To send donations electronically, remit funds to account number 7650228575, Fifth Third Bank, Fort Wayne. For more information, call 744-1151 or (260) 580-0368 or (317) 258-3855.