Artist Sherab Khandro Unveils Prayer Wheel At Goldenstein Gallery
The Buddhist Channel, Oct 31, 2007
Sedona, AZ (USA) -- In November of 2006, celebrated Buddhist artist Sherab Khandro received a grant from the City of Sedona Department of Arts and Culture Commission to develop a prayer wheel in the Tibetan Buddhist style. A year later, during Goldenstein Gallery's November, 2007 show "Chi: Art as a Healing Medium," Khandro is unveiling the pre-cast of the limited edition bronze.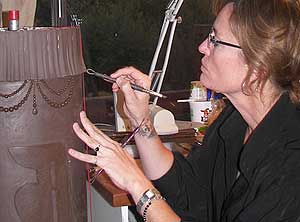 Khandro's deepest wish is to nourish and inspire the hearts and minds of others through her work. She is one of a handful of western artists to receive formal training in bringing forth this traditional art in the way it has been done in Tibet for centuries.
Using the neo-impressionist style of pointillism in her paintings, tiny dots of color create rich and vibrant imagery. Utilizing the intent of her vow as a Bodhisattva, a vow taken by Buddhists to return until the suffering of each soul has come to an end, each stroke of the brush holds a prayer of compassion. Each dot offered as a jeweled universe and a prayer to the Buddha to end suffering in the world, is carried through in her sculpture.
The Prayer Wheel plays a very important role in Tibetan Buddhist tradition. The prayer wheel has been used for over a thousand years by the great Yogis of Tibet, as well as Tibetan people from all walks of life, to release prayers into the world. The practice of turning the Prayer Wheel, or even wearing or having one in the home, is said to be of immeasurable benefit for oneself and others.
A noted speaker and Tibetan Buddhist philosopher, Khandro is also included in the list of noted speakers giving free talks as a compliment to the "Chi" exhibition. Her talk "Healing the Heart, Healing the World" will take place on Saturday, November 3, at 5:00 p.m., at the Goldenstein Gallery in Uptown Sedona. Reservations are suggested.
The public is invited to meet Sherab Khando and other local artists at the opening night reception for "Chi" on Friday, November 2, from 5:00 – 8:00 p.m., during the First Friday Sedona Gallery Association art walk. A strong fine art presence in Sedona, Goldenstein Gallery has been exhibiting internationally recognized local and regional artists from many traditions for years.
This special exhibition runs from November 1-30. Goldenstein Gallery is located at 390 North Highway 89A in Sedona. Parking is available behind the gallery. The gallery is open from 10am to 6pm daily. For more information go to www.goldensteinart.com or call 928-204-1765.