Symbol of peace, unity on display at UA Bookstore
By Barbara Grijalva, kold.com, Feb 20, 2009
Tucson, Arizona (USA) -- There are many spiritual people trying to calm the troubled waters of these times.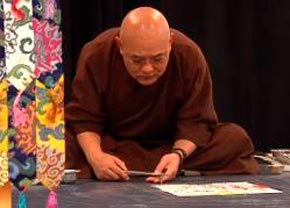 << Losang Samten, a Buddhist lay monk, builds the sand mandala at the UA Bookstore. The mandala is an ancient symbol representing time and the universe.
One of them, who once worked with the Dalai Lama, has dedicated his life to peace, harmony and compassion.
And right now, we can watch him practicing a key part of his philosophy and religion.
As you approach Buddhist lay monk Losang Samten, you can hear the gentle tap, tap of his chakpo.
It's a tool designed 1,000 years ago to gently lay down fine grains of colored sand to form a pattern, a mandala.
Samten is creating the most intricate and difficult Kalachakra mandala at the University of Arizona Student Union Bookstore.
This mandala it's an ancient revered symbol of time and the universe.
"The Wheel of Time is any time in the past, the future and the present. The key thing what we need is peace, harmonies, peace," Samten says.
Samten is putting all his energy into the delicate mandala that he hopes will help change the world.
"So much happening and so much people are living with the fear, losing job, not knowing what will happen tomorrow," he says.
It will take Samten a month to complete the mandala, much of it is done from memory.
As people walk by, each is struck by something different.
"I think the lesson I take from this is patience and perseverance and stay with something and you'll get it," says UA student David Johnson.
"You get the sense of peace, and just seeing the process. It takes a lot of time and commitment to engage in such a long process. He's doing it on his own and usually it's done by like four people. I think it's amazing," UA student Tenzing Yangdol says.
The Kalachakra mandala, the Wheel of Time, was designed 2,600 years ago.
It can have a very simple meaning.
"How to bring the peace and how to cultivate kindness and wisdom within," Samten says.
People watching and asking questions seem to be drawn as much to him as to the mandala taking shape before their eyes.
His gentle smile transforms easily into an infectious laugh.
"It's a chance for me to come over and feel that energy of his peacefulness," UA student Elisabeth Roberts says.
"I believe we are all precious. I believe we all can created tremendous thing. Not things about things. But internal," Samten says as he presses his hand to his chest.
His face lights up when he meets a student whose family also came from Tibet.
They speak quietly for a while.
Samten sees many similarities between mandalas and sand paintings by the Navajos of northern Arizona, and he has no doubt why.
"We're all in one boat. We're all traveling in one boat. We're all in one family. We're all human beings. We all have same idea," Samten says.
"When I walked by I see the sand and I went, okay, I get it," UA student Thomas Yazzie says.
When he completes the mandala, during a special ceremony, Samten will destroy it.
Another lesson.
"Let it go doesn't mean hopelessness. Let it go brings more hope, more change, more courage," he says.
On March 15th, a prayer for peace will be said, and the colored sand will be gently swept together in a special ceremony.
Until then, you can watch Losang Samten work at the UA Bookstore, Tuesday through Sunday from about 10 until 5.
If you can't make it, you can peek in from your computer.
The bookstore is feeding a live picture while he works.