Buddhist temple plans festival
by Michael Clancy, The Arizona Republic, Oct. 16, 2004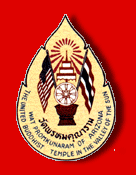 West Valley, Arizona (USA) -- Wat Promkunaram Temple will show off Thai culture, food and religion Sunday at its second annual Thai Multi-Cultural Festival. The temple, located in the far West Valley, attracted hundreds to its first community event last year, said Jantra Oswald, event organizer. The free event will feature music, dancing, games and food.
Visitors can learn about the Buddhist faith, take part in meditation and prayer and learn about the monks who live at the temple. advertisement Oswald said Buddhists of other cultures, mostly from Southeast Asia, also will be represented. The temple itself will be open for viewing and meditation. It houses several shrines, cases of books and a large gong to signal for silence. Oswald said that over time, the monks hope to build "a true Thai temple" for worship and to share with the community. Admission is free; donations will be accepted. Wat Promkunaram monks have lived in the Valley since 1984. Their temple remains best known as the site of a massacre of nine people in 1991.
Nowadays, the site is peaceful and rural, although Valley development is catching up. Aside from a memorial to the victims, a visitor would find it difficult to imagine the temple grounds as the site of a mass murder. The monks hold an event to honor the victims, including six monks, every year. But aside from the memorial, the temple has not changed its ways. There is no security, and anyone can come in when the gate is open. The monks instead concentrate on daily life, following a routine of work and meditation. A varying number of monks reside there.
Currently, eight are on duty. Always dressed in yellow and orange robes, they teach, lead religious services and work on the 5 1/2-acre grounds. They are friendly to visitors, although shy. Oswald said the first monks arrived in Arizona out of the desire of religious and government authorities in Thailand to have a worship center in every major metropolitan area worldwide. "They want to keep the world community in touch with Thai culture," she said.
As far as religious practice goes, monks are necessary to lead prayers and to teach proper meditation techniques, she said. "In Thai Buddhism, the monks are viewed as already purified," she said. Celibacy is part of their discipline. "We find a lot of people who seek peace and wholeness when they are troubled," Oswald said. "That is what the monks want to offer to the community."