Yelm Buddhists break ground on new temple
By Dean Siemon, Nisqually Valley News, June 24, 2011
Yelm, Washington (USA) -- Wat Prachum Neward Raingsey Buddhist temple has grown since opening in July 2002 and is expanding once again. The temple, recognizable for lotus blooms at its entrance, sits on Yelm Highway on the westerly outskirts of Yelm.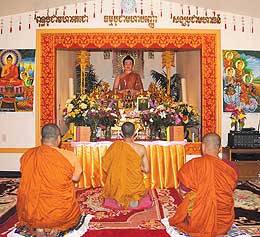 << Wat Prachum Neward Raingsey's monks, Soavanna Chhin, left, Kosal Suon and Tola Chhim, sit in front of a shrine to Buddha, which includes a bone shard from Buddha's ashes. Photo by Dean Siemon
The Theravada Buddhist temple, a nonprofit organization, broke ground last weekend on a new cetiya, which is a temple.
Kosal Suon, 49, said the building used to honor Buddha is too small for the people that join them in their public services.
Services are 10 a.m. Saturdays and Sundays.
Suon said the cetiya is estimated at more than $120,000. He said they hope to build a much larger temple in the far back of the property.
"When I came to the temple, I had to build something new," Suon said.
Buddhism is a religion practiced as the fourth largest faith, but originates from northeastern India and spread into Southeast Asia. Buddhism was formed after the Buddha, formerly Siddhartha Guatama, left life in a royal family in present-day Nepal and discovered the path to enlightenment.
Thousands of years after his death, his ashes are shared amongst selected temples, one of them being the one in Yelm. A woman brought a bone shard, the size of a grain of rice, after visiting a former professor, who is a monk in Sri Lanka
"She was asked to give (the shard) to a temple in Washington," explained Sovanna Chhin, a student monk in Yelm for the last year and a half.
Once construction is complete on the new cetiya, the Buddha relic will be moved there. But plans are to move the shard to the larger temple once it is constructed, which Suon said won't be anytime soon.
"I just have a plan for the future," he said.
A Buddhist monk for 22 years, Suon spent the past five as the head monk at Wat Prachum Neward Raingsey. Buddhists wanting to become monks can join at any age and become a samanera, a novice monk, before becoming a bikkhu, a full monk.
To become a bikkhu takes 10 years of study.
"I wanted to improve my life and live in the rule of Buddha," he said.
Chhin said that he joined the temple by choice as a way of repaying his parents for raising him.
"In return, I repay them by becoming a Buddhist monk to show them I still have respect for my culture and background," Chhin said, who has not returned to his home country of Cambodia since age 5.
Now 35, Chhin is not only pursuing his Buddhist studies but is studying business law at South Puget Sound Community College in Olympia.
"That's for my own personal growth," he said.
Chhin said that he joined the temple in 2010 as a student expecting to serve only the maximum three-month term.
"But if you have the mentality and the heart to stay, then you can stay," Chhin said. "I like it. I get to meet other monks and I get to travel and do ceremonies for the public."
Tola Chhim, 43, is in his first month of serving as a student monk, called a samanera, or novice, at the Yelm temple, but wanted to join a temple for at least six years.
"It just wasn't the right time," Chhim said.
About two years ago, Chhim said he was driving in the Yelm area to scout a new location for his family's donut shop in Spanaway.
He discovered the Wat Pracham Neward Raingsey Buddhist temple and eventually attended the group's Cambodian New Year, which is from April 13-15.
After attending this year's festival, Chhim said he decided now was the best time.
"Something called me here," he said.
Suon said that they are welcoming to new comers with open arms, hoping to continue teaching the rule of Buddha.
"In the future, I (will) try to teach about meditation and teach Cambodian culture and language for the younger followers," he said.