Maui Columbarium defiled in burglary
Maui News, April 12, 2005
PAIA, Hawaii -- Officials at the Mantokuji Mission of Paia are asking for the public?s help in catching those responsible for a break-in at the church columbarium last week.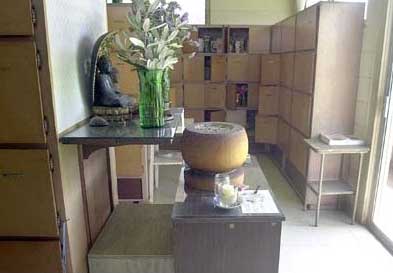 << Thieves broke in to the columbarium of the Mantokuji Mission of Paia on Thursday, stealing an offering box with money and statues, and disturbing a niche area where urns are stored. The church was burglarized last year, and in previous years as well. - The Maui News / AMANDA COWAN photo
?We are concerned about the crime problems on Maui,? said Brian Moto, one of the temple?s officers.
Burglars took Buddhist statues, an offertory box and disturbed an urn, which was left on the floor with ashes exposed.
The break-in occurred between 6 p.m. Wednesday and 9 a.m. Thursday, said Lt. John Jakubczak of the Criminal Investigation Division of the Maui Police Department.
He estimated the value of stolen items at $700.
Jakubczak said five jalousie windows were removed from the columbarium building. Police had no leads as of Monday, but they were awaiting fingerprint evidence taken by officers from the columbarium.
Moto said the Rev. Kenji Oyama discovered the break-in Thursday.
It was not the first time that someone has broken into the columbarium, he said.
Last year, Buddhist statues were stolen, and, in previous years, the church?s temple hall was broken into, Moto said.
Moto said the monetary value of the items stolen might not be a lot, but the columbarium houses ?the ashes of people?s loved ones and their family members.?
Anyone with information on the break-in may call Crime Stoppers at 242-6966. Callers to Crime Stoppers remain anonymous and are given a code number for the program that provides rewards up to $1,000 for information that leads to recovery of stolen property or the indictment of individuals responsible for a crime.