Oxnard Buddhist Temple holds its annual Obon Festival
By Mark Storer, Ventura County Star, July 9, 2011
Oxnard, CA (USA) -- Erika Ishii was putting last-minute touches on her friend Kimi Matsuoka's makeup as the two prepared for their dance.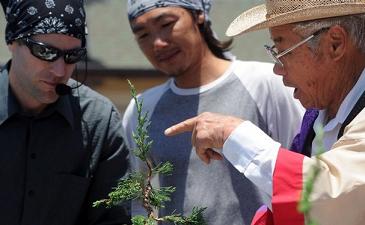 << Nathan Revard, from left, Tomo Nakamura and Master Sumi Arimura of the Bonsai Club of Oxnard put on a demonstration at the Oxnard Buddist Temple Obon Festival on Saturday.
Photo by Chuck Kirman // Buy this photo
Dressed in traditional and colorful Kimono-style robes, Ishii and Matsuoka are part of Azuma Kotobuki Kai, a traditional Japanese dancing group from Ventura County. The two were getting ready to perform at the Oxnard Buddhist Temple Saturday as part of the temple's annual Obon Festival.
"My sisters have done this for years and it got me interested," said Ishii. "It's really a graceful and traditional dance and it's a lot of fun." Though not Buddhists themselves, the girls said that dancing at the festival was still something they loved to do.
According to the Rev. Henry Adams, the Obon Festival is based on a scripture called Ullambana, that was spoken by the Buddha. A monk named Mogallana saw his mother suffering in the world beyond this one that she had passed into. Mogallana asked the Buddha what could be done to relieve her suffering. The Buddha told the monk that nothing would help her other than that the monk practice generosity in this life. The monk did so and saw his mother was relieved of suffering.
"We celebrate the Obon as a way to practice generosity and gratitude," said Adams. "This is our way of sharing that gratitude with others." Adams was dressed in traditional Buddhist fuho robes and a wagesa stole.
Adams, 33, and originally from Minnesota, studied in a student exchange program in India as a high school teenager. "I had a lot of questions and Buddhism answered those for me," Adams said.
"The Oxnard Buddhist Temple was originally founded by Japanese immigrants to the area," said Adams. "But Buddhism traces its roots to India and from there it spread throughout Asia and then the world. There are even some records of Buddhist communities among the Greek empire." The temple practices the Jodo Shinsu form of Buddhism tracing its roots to a 12th century monk of the same name.
"We have about 100 families in membership," said Yasuko Kujiraoka, who teaches at the temple's Dharma school. "We run a school that is sort of like Sunday school for churches
"It's all about the kids and we try to get them to incorporate Buddhist teaching into their everyday lives," she said.
The festival features a number of foods, most of them Japanese in origin like sushi, udon noodles, gyoza and teriyaki. Adams said that many Buddhists practice vegetarianism, but that the Oxnard temple does not. There was also a Dharma service in the temple held at 4:30 in the afternoon.
"The Dharma service is kind of an introduction to Buddhism and all the chants are in English," said Adams. "We also do an incense offering and teach people how to do it."
There were crafts and game booths and the Oxnard Bonsai club did a Bonsai demonstration for guests. "Bonsai has a lot of Buddhist influences," said Adams. The tradition of growing and trimming juniper bushes as well as other plants, comes originally from Japan.
"My wife has come to it every year," said Kent Hollenback of Ventura. "This is my first time coming. The kids are grown and out of the house, so I figured I had to come and see what I was missing."
Hollenback said he was most interested in the Bonsai demonstration.
"I learned a lot about that. I didn't know they used a variety of different plants," he said.
"My father in-law lives close by," said Mike Contreras of Oxnard. "We come every year and I learn something new each time."
Contreras said he was a practicing Catholic with an open mind.
"I like to broaden my horizons," he said. "The food is pretty good, too."On the web: www.oxnardbuddhisttemple.org