Explore An Introductory Course in Buddhist Samatha Meditation
by Chris Morray Jones, The Alameda Sun, 16 September 2011
Alameda, CA (USA) -- Samatha means calm. Samatha meditation is an effective but gentle way of training the mind to develop inner strength and freedom from turmoil, leading on to clarity and understanding.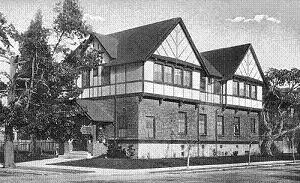 << The Home of Truth Spiritual Center at 1300 Grand St. is hosting meditation classes Thrusdays through Dec. 15.
This path from calm to insight was followed by the Buddha himself and is a central tradition of Buddhist meditation.
There are many kinds of samatha meditation techniques. The one I'm teaching is based on attention to the breath, a subject said to be suitable for all types of people. It is rooted in the Theravada Buddhist tradition of Southeast Asia. However, it may be practiced by anyone, regardless of belief.
By regular daily practice the chattering, unruly mind gradually becomes calmer and develops clarity. The way our mind works becomes less confusing to us and we begin to understand the habits of mind that hold us back from happiness and freedom. We become kinder to ourselves and those around us. Meditation is a practical matter: increased awareness brings an ability to make the most of ourselves in our daily lives.
Classes are held in The Garden Cottage at The Home of Truth Spiritual Center, 1300 Grand St., on Thursdays from 7 to 9:30 p.m., continuing through Dec. 15. All are welcome to attend. There is no charge, although donations are accepted. To learn more about this tradition of practice, visit www.samatha.org.
For information about classes in Alameda, call Chris Morray- Jones at 459-6741 or email samatha. meditation@sbcglobal.net.