After the Elections
A Statement and Call to Action from the Buddhist Peace Fellowship, www.bpf.org, Nov 3, 2004
Berkeley, Calif. (USA) -- The 2004 U.S. presidential election has finally come to an end. Some of us are deeply unhappy about the outcome and others are rejoicing. Many people have mixed feelings. All of us cherish the same dream of safety and happiness, but our fears, beliefs, and the compelling delusions of the American political spectacle blind us to our true connection to each other.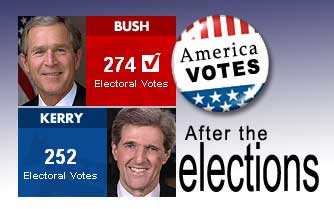 However we may feel, though, we take heart from the great outpouring of civic energy throughout this election year. Unprecedented numbers of people came out to vote and to work according to their convictions. On all sides people felt there was much at stake, and many of us were willing to throw ourselves into the mix.
The Buddhist Peace Fellowship calls on its more than 4,000 members and the wide Buddhist community to recognize that our hard work for peace and justice carried on throughout this long election season must continue. We recommit ourselves to this work for the long run.
Our nation?s situation in the world is still the same, and would have been so regardless of the results of this election. Our country is deeply divided and a pointless war is underway. Lives on both sides are lost daily. We fear many more will die. We hold precious the lives of our troops in Iraq, and grieve for the more than 1,000 who have given their lives. And we hold equally precious the lives of Iraqis entangled in escalating violence. The most recent reports indicate that at least 10,000 Iraqis have died as a result of this war (some sources cite the figure closer to 100,000). According to one study, the risk of death by violence for civilians in Iraq is now 58 times higher than before the US-led invasion (The Lancet).
In these times, the Buddhist Peace Fellowship?s commitment to work toward social, political, economic, and environmental justice for all remains strong. We will continue to speak out against this war and stand in solidarity with our colleagues in the Fellowship of Reconciliation, the American Friends Service Committee, and the more than 800 organizations of the United for Peace and Justice coalition. We will continue to work on building a culture of peace by supporting initiatives such as the Department of Peace and the Nonviolent Peace Force, and by helping to create inclusive circles where people can come together in the diversity of their views and backgrounds. And we will continue to offer a witness for peace and justice wherever great suffering and injustice is taking place.
Much of the world thinks of the United States as a deluded and dangerous empire. This election may only confirm them in this belief. People in other countries have suffered under the ?leadership? of both Republicans and Democrats. As long as corporations hold the world?s purse strings, and our military does their bidding, no one here at home or anywhere in the world will be safe.
All of us want a harmonious, peaceful, safe, and equitable world. These are very broad concepts, and we won?t all be in complete agreement about the meaning of these words and their implications on social policy. Peace itself is an elusive notion. In Buddhist terms peace is not an idealized land of milk and honey and insipid niceness. Peace is a dynamic process, never separate from conflict and disagreement. It is about regaining our balance over and over again, remembering that even our ?enemies? embody Buddha nature. As we recall the distortions, invective, and divisiveness of the campaign year this generous-minded remembering is essential.
This summer, the Buddhist Peace Fellowship offered a statement to the party conventions in which we said: ?We refuse to succumb to apathy, cynicism, or anger. We seek a politics rooted in the compassion and generosity born in each of us.? We suggested three timeless vows that Buddhists and other people of faith may offer up as an antidote to ignorance that can infect us personally and politically:
? Transform greed into generosity.
? Transform hatred into love and compassion.
? Transform ignorance into clarity and attention.
Living with these vows, we must dare the work of peace and justice that is already well begun. Healing is necessary, and we must be selfless and unafraid. Being selfless means being connected to all beings, not just those we momentarily agree with. Being unafraid means moving towards our differences with an open heart even when we feel fear. In this new political season, can we dare not to believe everything we think? Can we dare to tell the truth as we understand it? Can we dare to change our minds?
Finally, as part of an interfaith effort with other religious peace fellowships in the Fellowship of Reconciliation, we encourage our members and the Buddhist community at large to take part in a call to action and use the time between the election and Inauguration Day (January 20, 2005) to develop teach-ins, workshops, vigils, and other events in order to explore and affirm the value of nonviolent alternatives to war.
---
A Call for Dialogue, Reflection, and Action!
November 2nd, 2004 represents an important day for our country. Yet it is clear that whichever candidate becomes president of the United States, discussion of foreign policy options ? especially nonviolent alternatives ? is urgently needed. With this in mind, we propose holding educational programs, teach-ins, workshops, vigils, etc. in colleges and universities, religious and community groups during Inauguration Week, January 17-21, 2005.
The need to re-examine U.S. foreign policy is evident, and there has been a disappointing lack of discussion of alternatives in the campaigns. Our actions are nonpartisan and will carry forward no matter who wins this election. Now is the time to examine our priorities, and to re-commit ourselves to influencing foreign policy. We call on everyone to send a clear message to the new Congress and the administration.
For more information on this action within the Buddhist community, contact Maia Duerr, maia@bpf.org, 510-655-6169, ext. 311.
Currently endorsed by the Lutheran Peace Fellowship and the Buddhist Peace Fellowship.