Buddhist lifestyle becoming more popular
By STEVE KENT, USU Statesman, Nov 11, 2011
Cache Valley, Utah (USA) -- Religious and non-religious people alike can benefit from Buddhism, according to a presenter Saturday at the Museum of Anthropology's new exhibit honoring Buddhism in the Cache Valley.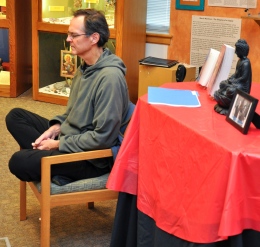 << MICHAEL SOWDER SPOKE ABOUT Buddhist beliefs and lifestyles and led the audience in a mediation session at the Anthropology Museum Saturday. He said people of all religious backgrounds can benefit from these techniques. DELAYNE LOCKE photo
In his experience as a teacher at the Cache Valley Buddhist Sangha, associate English Professor Michael Sowder said he has worked with people of all religious backgrounds who practice meditation and study Buddhist teachings.
People with such a wide range of religious inclination can practice Buddhism because its teachings neither endorse nor reject any particular beliefs, Sowder said.
"You can have a religious belief and practice Buddhism at the same time," he said. "Buddhism will not contradict your beliefs, but it doesn't affirm something about God, either."
Dan Judd and Shawn Bliss attended Saturday's presentation. Both men said they attend a local Sangha, or Buddhist group. Judd said he's a member of the Church of Jesus Christ of Latter-day Saints, while Bliss said he's not religious.
Even though they don't hold the same religious beliefs, Bliss said the two still share some of the same spiritual pursuits.
"The thing that fuels both of our paths in the Sangha, is that we're interested in the question of suffering and how to end suffering in our lives and then, hopefully, in the world," Bliss said.
Attending the Sangha at the Unitarian Universalist Church in Logan has helped him connect with his more religious neighbors, Bliss said.
"I was really struggling, not being an LDS person in Cache Valley," Bliss said. "Getting to know people like Dan and some other members of our Sangha has opened up my heart to the LDS culture and the LDS people in a way that I didn't think was ever going to be possible."
Judd said he has been practicing meditation on his own since the early 1970s. After a medical condition made meditation more difficult, he said he began to study Buddhism. Instead of contradicting his LDS beliefs, Judd said Buddhism helps him spend time in contemplation, as leaders of his church have advised.
While the Cache Valley Sangha draws from many different schools of Buddhist thought, it also has unique aspects that set it apart from its Eastern origins, Sowder said.
"I think as Buddhism has become established in the U.S., it's much more democratic," Sowder said. "In traditional Buddhist cultures you have a very hierarchical structure. You have somebody like the Dalai Llama, and then there are all the monks under him."
In the Cache Valley Sangha, Sowder said he is one of 10 teachers who share different approaches to Buddhism on a rotating, weekly schedule.
In addition to the weekly presentation by a teacher, a portion of each meeting is reserved for members to talk about their own spiritual experiences and progress, he said. The Sangha relies on the collective wisdom of its members, he said, and therefore the group exchange of expriences can often be more profound than the prepared lessons.
Sowder opened and closed the presentation at the museum Saturday with a short meditation practice, in which he asked audience members to close their eyes and focus on their breathing.
"Just let yourself be present — right here, right now," Sowder said. "Just try to let all the other worries and cares and concerns of the rest of your life rest aside, and just try to relax."
Sowder gave a brief history of Buddha and his teachings on how to gain enlightenment. All people can attain enlightenment — the end of suffering — through a combination of ethics, wisdom and meditation, Sowder said.
While many Buddhist teachings involve suffering, the philosophy focuses on the way to overcome suffering, Sowder said. Meditation meetings such as the ones held by the Cache Valley Sangha and the USU Meditation Club can provide relief from many different causes of suffering, he added.
"It helps you face and process and work through emotions," Sowder said. "It helps you heal from past suffering, wounds that you might have experienced in childhood or in other places. It helps people with addictions. It helps people with depression. It helps people with anxiety."
Nicole Fulghum, a junior studying elementary education, said after attending the presentation she would like to attend the Meditation Club meetings on campus. Though she has had some exposure to Buddhism through family members, she hasn't studied its teachings or tested its practices herself, she said, and the services she learned about through the presentation may help her learn more.