Jikoen Buddhist Women's Association donates substantial sum for Pacific Buddhist Academy's capital campaign
by Gavin Takeno, Karma Chronicle, January 27, 2012
Honolulu, Hawaii (USA) -- Last Friday, the Pacific Buddhist Academy (PBA) received a $1000 donation from the Buddhist Women Association of the Jikoen Hongwanji for the new and highly anticipated school building.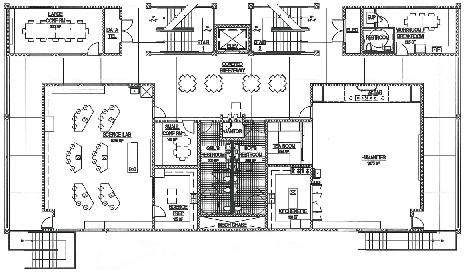 A proposed design for one of PBA's new classroom buildings. - permission of the PBA Administration.
The Buddhist Women Association is a group of elderly, peaceful ladies that work night and day to produce products for their temple that they sell to keep their temple alive and well.
Head of School Pieper Toyama feels humbled, honored, and appreciative that these women would work this hard to raise money and then simply give their money to us. "They don't know any of the faculty, nor do they know the students, but yet they came right out and gave PBA money," Toyama said. "These hard-working women just gave us money."
Toyama believes the women committed themselves to the school's future. "They have made an investment to see that everyone grows up to become a great person," he said. "Knowing that, I believe it is every one's responsibility to not let that investment go to waste!"
Mr. Toyama and the underclassmen are very excited and anxious for the new building. The new building will be right on the temple campus.
The new building will meet most of the current students' needs. It will have six classrooms, a science lab, kitchen, and rooftop garden.
Toyama is most excited for the multi-purpose room. The room will serve as a study room, annex, exercise room, or whatever students envision.
One side of the wall will have doors that can fold up and reveal the onaijin. The doors have the image of the dharma wheel and a dragon, the school's mascot.
The onajin will be even more unique for the writing on the doors. As Toyama explained, the last few words in the Buddhist hymn "Ti-Sirana" -- " Buddham saranam gaccami / Dhammam saranam gaccami / Sangham saranam gaccami" -- will signify that the services conducted with the onaijin will serve all types of Buddhists. "Buddha, dharma and sangha are the three treasures of all Buddhists," said Toyama. "It doesn't matter if they are Mahayana, Theravada, or Vajrayana."
The school is in the last phase of a capital campaign to raise five million dollars. Toyama wants construction for the building to be finished in the summer of 2013.
To date, the school has raised 3.5 million dollars. "We only need half a million more," Toyama said. "I want a foundation to donate the last million dollars for our cause."