6th Anniversary of Against The Stream
The Buddhist Channel, Feb 23, 2014
The Buddha said his path to awakening was one of rebellion – a
subversive path that is against greed, against hatred, and against delusion. It is a path of radical, engaged transformation, a path of finding freedom and spending the rest of our lives giving it away. It is a path that goes...Against the Stream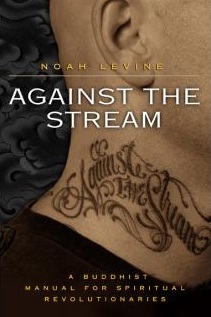 Los Angeles, CA -- "Against the Stream Buddhist Meditation Society (ATS)" is the fastest growing American Buddhist organization. Buddhist teacher, hardcore punk, and author Noah Levine founded ATS in 2008 and since the East Hollywood location doors opened, ATS has created a thriving Sangha
(community) that spreads spiritual public awareness based on Buddhist principles. Two additional ATS centers are located in San Francisco and Nashville and more than twenty affiliated groups have been founded nationwide.
On February 20th, ATS's original East Hollywood location will be celebrating six years of fellowship. All are welcome to celebrate by joining one of the many weekly classes. All classes are on donation basis, believing in the philosophy of dana (generosity or giving). ATS never turns anyone away; those who have give a little more for those who have not.
The appeal and success of ATS is simple, not only is the irreverence and blunt style of founder Noah Levine refreshing, but Buddhism and mediation are taught in straightforward, transparent methods. There are no rituals or hierarchy that
reign in other Buddhist organizations. ATS was founded by hardcore punk DIY principles and beliefs grounded in teaching only the basic principles as spoken by the Buddha himself. This humble approach has allowed ATS to tap into a
community of people who enjoy learning about the core fundamentals of Buddhist practice.
ATS mission statement: "We welcome people from all racial, economic, sexual, social, political and religious backgrounds and preferences and believe that the path of awakening is attainable by all and should be available to all. We strive to create a safe environment for all who come to practice." This is the truth at the heart of all Buddhist teachings.
About Noah Levine
Noah Levine, author of Dharma Punx, Against The Stream and The Heart of the Revolution, is a Buddhist teacher, author and counselor. He was trained to teach by Jack Kornfield of Spirit Rock Meditation Center in Woodacre, CA. He is the founding teacher of Against the Stream Buddhist Meditation Society, with two centers in Los Angeles and over 20 affiliated groups around North America.
He teaches meditation classes, workshops and retreats internationally. Noah holds a Masters degree in counseling psychology. He is also on the board of directors of the Buddhist Recovery Network. Levine lives in Los Angeles.
If you go
WHAT: AGAINST THE STREAM BUDDHIST MEDITATION CENTER
CELEBRATES ITS 6TH ANNIVERSARY
WHEN: FEBRUARY 20TH, 2014
WHERE: 4300 MELROSE AVE. LOS ANGELES, CA 90004 and
1001A COLORADO BLVD. SANTA MONICA, CA 90401
Class schedules and special retreats are updated regularly on the ATS website .
Affiliate groups are located around the world, including: San Francisco, New York, Nashville, Washington, D.C., Boston, Seattle, Germany, and Montreal.
RESOURCES: www.againstthestream.org