Buddhist principles to meet psychotherapy at Port Townsend seminar
By Charlie Bermant, Peninsula Daily News, March 24, 2014
PORT TOWNSEND, WA (USA) -- Psychotherapy traditionally requires analysis of the past in order to solve current problems and shape the future, but a local Buddhist teacher feels such problems can be solved by focusing on the present.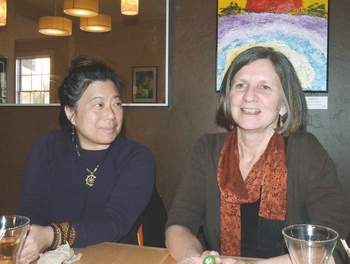 << Buddhist teacher Joanne Kumekawa, left, and psychotherapist Sue Dennison discuss the effect of Buddhist teachings on the therapeutic process. —Photo by Charlie Bermant/Peninsula Daily News
"Many therapists tell their patients that something is their diagnosis and they aren't likely to get better," said Joanne Kumekawa, who teaches ­Buddhism under the name Padma Yong Chedtso.
"Buddhism teaches that you can change your way of thinking you can become more positive, if you believe you are going to get better it will happen."
Kumekawa said that several local psychotherapists have signed up for classes, which prompted her to prepare a special curriculum for those students.
The first such class, titled Mindfulness Matters: Buddhism 101 for Psychotherapists, takes place from 10 a.m. to 3 p.m. this Saturday, with a one-hour lunch break at noon, in the Port Townsend Community Center, 620 Tyler St.
The seminar offers an overview of Buddhist fundamentals and meditation that can be practically applied in psychotherapy practice, Kumekawa said.
In the morning session she will teach basic ­Buddhist principles as well as a simple meditation practice.
In the afternoon,Sue Dennison, a licensed mental health practitioner, will lead the discussion on how to incorporate Buddhist practices into a psychotherapy practice.
One of the most important Buddhist tenets that applies to therapy is present moment thinking, which requires the student to not consider an unhappy past or an uncertain future.
Kumekawa feels that Buddhist philosophy can be used to treat mental illness but the path is indirect, teaching present moment thinking to a therapists allow them to pass the process on to their patients.
"It's similar to the idea that the doctor should heal themselves first," she said.
"Usually depression comes from looking at the past, if you can learn to stay in the present moment it can help to eradicate that depression."
"Some people who are in a bad state of mind have a hard time feeling grateful," Dennison said.
"If they can live in the present moment and find things they can be grateful for it can help them remember there is a another part to their life that is positive."
Dennison said she has been a practicing Buddhist for about six years and has incorporated the philosophy into her practice, when she had a web site she listed it as a way to attract like-minded clients.
"A lot of therapists require their patients to live through a trauma repeatedly in order to understand it," Kumekawa said.
"A Buddhist therapist will encourage them to let the trauma go."
Dennison said that as a Buddhist, she understands that positive thinking is a way to stop suffering, she seeks to pass that on to clients who are in a negative state,
Positive thinking isn't something that can be faked, so anyone who seeks to apply Buddhist tenets into a therapy practice cannot use the techniques without understanding them, Kumekawa said.
She's not sure what the future of the connection between Buddhism and psychotherapy holds.
"I think this is a great idea that can really work for a lot of people," she said.
"Right now, I'm going to see how it works in Port Townsend. If it succeeds then people from other areas will seek us out."
The class fee is a $45 suggested donation, with materials included.
For more information write jkkumekawa@gmail.com.